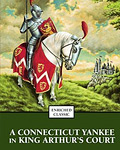 (Origin)
A Connecticut Yankee in King Arthur's Court
Author: Mark Twain
Origin: GoodReads
Last update: May 20, 2016
Latest Chapter: Chapter 44 – A Postscript by Clarence
Description:
A Connecticut Yankee in King Arthur's Court was the last of Twain's novels written during the apex of his career. As a work it shows his more mature writing, hinting at some of the cynical and dark themes that he would obsess over in his final years?he thought it would be his last book, but he went on to write many more stories and novelettes.
The book was originally titled A Yankee in King Arthur's Court. Some early editions are titled A Yankee at the Court of King Arthur.
CONTENTS
2020 © All ebooks are in the public domain or are licensed for free distribution.