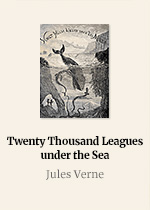 Description
Twenty Thousand Leagues Under the Seas (French: Vingt mille lieues sous les mers) is a classic science fiction adventure novel by French writer Jules Verne.
The novel was originally serialized from March 1869 through June 1870 in Pierre-Jules Hetzel's fortnightly periodical, the Magasin d'éducation et de récréation. The book was widely acclaimed on its release and remains so; it is regarded as one of the premier adventure novels and one of Verne's greatest works, along with Around the World in Eighty Days and Journey to the Center of the Earth. Its depiction of Captain Nemo's underwater ship, the Nautilus, is regarded as ahead of its time, since it accurately describes many features of today's submarines, which in the 1860s were comparatively primitive vessels.
Summary
When an unidentified "monster" threatens international shipping, French oceanographer Pierre Aronnax and his unflappable assistant Conseil join an expedition organized by the US Navy to hunt down and destroy the menace. After months of fruitless searching, they finally grapple with their quarry, but Aronnax, Conseil, and the brash Canadian harpooner Ned Land are thrown overboard in the attack, only to find that the "monster" is actually a futuristic submarine, the Nautilus, commanded by a shadowy, mystical, preternaturally imposing man who calls himself Captain Nemo. Thus begins a journey of 20,000 leagues—nearly 50,000 miles—that will take Captain Nemo, his crew, and these three adventurers on a journey of discovery through undersea forests, coral graveyards, miles-deep trenches, and even the sunken ruins of Atlantis.
About Author
Jules Gabriel Verne (/vɜːrn/; French: [ʒyl gabʁijɛl vɛʁn]; 8 February 1828 – 24 March 1905) was a French novelist, poet, and playwright. He is best known for his novels Journey to the Center of the Earth (1864), Twenty Thousand Leagues Under the Sea (1870), and Around the World in Eighty Days (1873).
Verne wrote about space, air, and underwater travel before navigable aircraft and practical submarines were invented, and before any means of space travel had been devised. He is the second most translated author of all time, behind Agatha Christie. Verne, along with H. G. Wells, is often referred to as the "Father of Science Fiction".
Quotes From this Book
"The sea is everything. It covers seven tenths of the terrestrial globe. Its breath is pure and healthy. It is an immense desert, where man is never lonely, for he feels life stirring on all sides. The sea is only the embodiment of a supernatural and wonderful existence. It is nothing but love and emotion; it is the Living Infinite. "
"We may brave human laws, but we cannot resist natural ones."
"If there were no thunder, men would have little fear of lightning."
"The human mind delights in grand conceptions of supernatural beings."