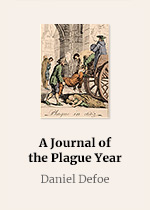 Description
A Journal of the Plague Year is a novel by Daniel Defoe, first published in March 1722.
This novel is an account of one man's experiences of the year 1665, in which the Great Plague or the bubonic plague struck the city of London. The book is told somewhat chronologically, though without sections or chapter headings.
Presented as an eyewitness account of the events at the time, it was written in the years just prior to the book's first publication in March 1722. Defoe was only five years old in 1665, and the book itself was published under the initials H. F. and is probably based on the journals of Defoe's uncle, Henry Foe.
In the book, Defoe goes to great pains to achieve an effect of verisimilitude, identifying specific neighborhoods, streets, and even houses in which events took place. Additionally, it provides tables of casualty figures and discusses the credibility of various accounts and anecdotes received by the narrator.
The novel is often compared to the actual, contemporary accounts of the plague in the diary of Samuel Pepys. Defoe's account, which appears to include much research, is far more systematic and detailed than Pepys's first-person account.
About Author
Daniel Defoe (1659/1661 [?] – 1731) was an English writer, journalist, and spy, who gained enduring fame for his novel Robinson Crusoe. Defoe is notable for being one of the earliest practitioners of the novel and helped popularize the genre in Britain. In some texts he is even referred to as one of the founders, if not the founder, of the English novel. A prolific and versatile writer, he wrote more than five hundred books, pamphlets, and journals on various topics (including politics, crime, religion, marriage, psychology and the supernatural). He was also a pioneer of economic journalism.
Quotes From this Book
"But it was impossible to make any impression upon the middling people and the working labouring poor. Their fears were predominant over all their passions, and they threw away their money in a most distracted manner upon those whimsies."
"Wherever God erects a house of prayer, The Devil always builds a chapel there; And 'twill be found upon examination The latter has the largest congregation."