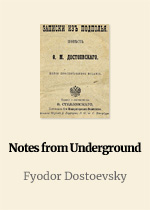 Description
Dostoevsky's most revolutionary novel, Notes from Underground marks the dividing line between nineteenth- and twentieth-century fiction, and between the visions of self each century embodied. One of the most remarkable characters in literature, the unnamed narrator is a former official who has defiantly withdrawn into an underground existence. In complete retreat from society, he scrawls a passionate, obsessive, self-contradictory narrative that serves as a devastating attack on social utopianism and an assertion of man's essentially irrational nature.
Summary
The novella presents itself as an excerpt from the rambling memoirs of a bitter, isolated, unnamed narrator (generally referred to by critics as the Underground Man), who is a retired civil servant living in St. Petersburg. The first part of the story is told in monologue form through the Underground Man's diary, and attacks contemporary Russian philosophy, especially Nikolay Chernyshevsky's What Is to Be Done?. The second part of the book, called "Apropos of the Wet Snow", describes certain events that appear to be destroying and sometimes renewing the underground man, who acts as a first person, unreliable narrator and anti-hero.
About Author
Fyodor Mikhailovich Dostoevsky was a Russian novelist, short story writer, essayist, and journalist. His literary works explore human psychology in the troubled political, social, and spiritual atmospheres of 19th-century Russia, and engage with a variety of philosophical and religious themes. His most acclaimed novels include Crime and Punishment (1866), The Idiot (1869), Demons (1872), and The Brothers Karamazov (1880).
Many literary critics rate him as one of the greatest novelists in all of world literature, as multiple of his works are considered highly influential masterpieces. His 1864 novella Notes from Underground is considered to be one of the first works of existentialist literature. As such, he is also looked upon as a philosopher and theologian as well.
Quotes From this Book
"I say let the world go to hell, but I should always have my tea."
"To love is to suffer and there can be no love otherwise."
"The pleasure of despair. But then, it is in despair that we find the most acute pleasure, especially when we are aware of the hopelessness of the situation…
…everything is a mess in which it is impossible to tell what's what, but that despite this impossibility and deception it still hurts you, and the less you can understand, the more it hurts."
"How can a man of consciousness have the slightest respect for himself"
"To care only for well-being seems to me positively ill-bred. Whether it's good or bad, it is sometimes very pleasant, too, to smash things."