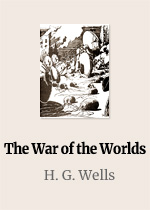 Description
The War of the Worlds is a science fiction novel by English author H. G. Wells, first serialised in 1897 by Pearson's Magazine in the UK and by Cosmopolitan magazine in the US. Written between 1895 and 1897, it is one of the earliest stories to detail a conflict between mankind and an extraterrestrial race. The novel is the first-person narrative of both an unnamed protagonist in Surrey and of his younger brother in London as southern England is invaded by Martians. The novel is one of the most commented-on works in the science fiction canon.
When an army of invading Martians lands in England, panic and terror seize the population. As the aliens traverse the country in huge three-legged machines, incinerating all in their path with a heat ray and spreading noxious toxic gases, the people of the Earth must come to terms with the prospect of the end of human civilization and the beginning of Martian rule.
About Author
Herbert George Wells (21 September 1866 – 13 August 1946) was an English writer. Prolific in many genres, he wrote dozens of novels, short stories, and works of social commentary, history, satire, biography and autobiography. His work also included two books on recreational war games. Wells is now best remembered for his science fiction novels and is often called the "father of science fiction", along with Jules Verne and the publisher Hugo Gernsback.
Quotes From this Book
"No one would have believed in the last years of the nineteenth century that this world was being watched keenly and closely by intelligences greater than man's and yet as mortal as his own; that as men busied themselves about their various concerns they were scrutinised and studied, perhaps almost as narrowly as a man with a microscope might scrutinise the transient creatures that swarm and multiply in a drop of water."
"Be a man!… What good is religion if it collapses under calamity? Think of what earthquakes and floods, wars and volcanoes, have done before to men! Did you think that God had exempted [us]? He is not an insurance agent."
"This isn't a war," said the artilleryman. "It never was a war, any more than there's war between man and ants."