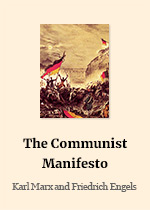 Description
The Communist Manifesto, originally the Manifesto of the Communist Party (German: Manifest der Kommunistischen Partei), is an 1848 political document by German philosophers Karl Marx and Friedrich Engels. Commissioned by the Communist League and originally published in London just as the Revolutions of 1848 began to erupt, the Manifesto was later recognised as one of the world's most influential political documents.
The Communist Manifesto summarises Marx and Engels' theories concerning the nature of society and politics, namely that in their own words "[t]he history of all hitherto existing society is the history of class struggles". It also briefly features their ideas for how the capitalist society of the time would eventually be replaced by socialism.
About Author
Karl Heinrich Marx (5 May 1818 – 14 March 1883) was a German philosopher, economist, historian, sociologist, political theorist, journalist and socialist revolutionary. Born in Trier, Germany, Marx studied law and philosophy at university. He married Jenny von Westphalen in 1843. Due to his political publications, Marx became stateless and lived in exile with his wife and children in London for decades, where he continued to develop his thought in collaboration with German thinker Friedrich Engels and publish his writings, researching in the reading room of the British Museum. His best-known titles are the 1848 pamphlet The Communist Manifesto and the three-volume Das Kapital (1867–1883). Marx's political and philosophical thought had enormous influence on subsequent intellectual, economic and political history. His name has been used as an adjective, a noun and a school of social theory.
Friedrich Engels (28 November 1820 – 5 August 1895), was a German philosopher, historian, political scientist and revolutionary socialist. He was also a businessman, journalist and political activist.Engels developed what is now known as Marxism together with Karl Marx. In 1845, he published The Condition of the Working Class in England, based on personal observations and research in English cities. In 1848, Engels co-authored The Communist Manifesto with Marx and also authored and co-authored (primarily with Marx) many other works. Later, Engels supported Marx financially, allowing him to do research and write Das Kapital. After Marx's death, Engels edited the second and third volumes of Das Kapital. Additionally, Engels organised Marx's notes on the Theories of Surplus Value which were later published as the "fourth volume" of Das Kapital.
Quotes From this Book
"The history of all hitherto existing society is the history of class struggles.
Freeman and slave, patrician and plebeian, lord and serf, guildmaster and journeyman, in a word, oppressor and oppressed, stood in constant opposition to one another, carried on an uninterrupted, now hidden, now open fight, that each time ended, either in the revolutionary reconstitution of society at large, or in the common ruin of the contending classes."
"A specter is haunting Europe—the specter of Communism. All the powers of old Europe have entered into a holy alliance to exorcise this specter; Pope and Czar, Metternich and Guizot, French radicals and German police spies.
Where is the party in opposition that has not been decried as Communistic by its opponents in power? Where the opposition that has not hurled back the branding reproach of Communism, against the more advanced opposition parties, as well as against its reactionary adversaries?
Two things result from this fact.
I. Communism is already acknowledged by all European powers to be in itself a power.
II. It is high time that Communists should openly, in the face of the whole world, publish their views, their aims, their tendencies, and meet this nursery tale of the Specter of Communism with a Manifesto of the party itself."
"The bourgeoisie, wherever it has got the upper hand, has put an end to all feudal, patriarchal, idyllic relations. It has pitilessly torn asunder the motley feudal ties that bound man to his 'natural superiors,' and has left remaining no other nexus between man and man than naked self-interest, callous 'cash payment.' It has drowned the most heavenly ecstasies of religious fervor, of chivalrous enthusiasm, of philistine sentimentalism, in the icy water of egotistical calculation. It has resolved personal worth into exchange value, and in place of the numberless indefeasible chartered freedoms, has set up that single, unconscionable freedom—Free Trade. In one word, for exploitation, veiled by religious and political illusions, it has substituted naked, shameless, direct, brutal exploitation.
The bourgeoisie has stripped of its halo every occupation hitherto honored and looked up to with reverent awe. It has converted the physician, the lawyer, the priest, the poet, the man of science, into its paid wage laborers.
The bourgeoisie has torn away from the family its sentimental veil, and has reduced the family relation to a mere money relation."
"Let the ruling classes tremble at a Communistic revolution. The proletarians have nothing to lose but their chains. They have a world to win.
Workingmen of all countries unite!"
"The bourgeoisie cannot exist without constantly revolutionizing the instruments of production, and thereby the relations of production, and with them the whole relations of society. Conservation of the old modes of production in unaltered forms, was, on the contrary, the first condition of existence for all earlier industrial classes. Constant revolutionizing of production, uninterrupted disturbance of all social conditions, everlasting uncertainty and agitation, distinguish the bourgeois epoch from all earlier ones. All fixed, fast-frozen relations, with their train of ancient and venerable prejudices and opinions, are swept away; all new-formed ones become antiquated before they can ossify. All that is solid melts into air, all that is holy is profaned, and man is at last compelled to face with sober senses his real conditions of life and his relations with his kind."