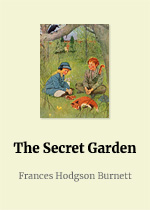 Description
The Secret Garden is a novel by Frances Hodgson Burnett first published in book form in 1911, after serialization in The American Magazine (November 1910 – August 1911). Set in England, it is one of Burnett's most popular novels and seen as a classic of English children's literature. Several stage and film adaptations have been made. The American edition was published by the Frederick A. Stokes Company with illustrations by Maria Louise Kirk (signed as M. L. Kirk), and the British edition by Heinemann with illustrations by Charles Heath Robinson.
About Author
Frances Eliza Hodgson Burnett (24 November 1849 – 29 October 1924) was a British-American novelist and playwright. She is best known for the three children's novels Little Lord Fauntleroy (published in 1885–1886), A Little Princess (1905), and The Secret Garden (1911).
Frances Eliza Hodgson was born in Cheetham, Manchester, England. After her father died in 1852, when Frances was 3 years old, the family fell on straitened circumstances and in 1865 emigrated to the United States, settling in New Market, Tennessee. There, Frances began writing to help earn money for the family, publishing stories in magazines from the age of 19. In 1870, her mother died, and in 1872 she married Swan Burnett, who became a medical doctor. The Burnetts lived for two years in Paris, where their two sons were born, before returning to the United States to live in Washington, D.C. Burnett then began to write novels, the first of which (That Lass o' Lowrie's), was published to good reviews. Little Lord Fauntleroy was published in 1886 and made her a popular writer of children's fiction, although her romantic adult novels written in the 1890s were also popular. She wrote and helped to produce stage versions of Little Lord Fauntleroy and A Little Princess.
Quotes From this Book
"If you look the right way, you can see that the whole world is a garden."
"Is the spring coming?" he said. "What is it like?"…"It is the sun shining on the rain and the rain falling on the sunshine…"
"At first people refuse to believe that a strange new thing can be done, then they begin to hope it can be done, then they see it can be done–then it is done and all the world wonders why it was not done centuries ago."
"She made herself stronger by fighting with the wind."
"Where you tend a rose my lad, a thistle cannot grow."
"It made her think that it was curious how much nicer a person looked when he smiled. She had not thought of it before."