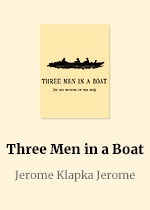 Description
Three Men in a Boat (To Say Nothing of the Dog), published in 1889, is a humorous account by English writer Jerome K. Jerome of a two-week boating holiday on the Thames from Kingston upon Thames to Oxford and back to Kingston. The book was initially intended to be a serious travel guide, with accounts of local history along the route, but the humorous elements took over to the point where the serious and somewhat sentimental passages seem a distraction to the comic novel. One of the most praised things about Three Men in a Boat is how undated it appears to modern readers – the jokes have been praised as fresh and witty.
Summary
The book tells of a humorous story of three Englishman who find themselves in need of a vacation and decide to take a holiday boating on the Thames. The three friends, Jerome (referred to as "J"), George, and Harris, pile into a boat with food, clothes, and a fox terrier named Montmorency, and set off from London to see the English countryside. "Three Men in a Boat" is a first-class comic masterpiece, as the well-to-do upper-class gentlemen are beset by a series of comic mishaps, including unreliable weather forecasts, culinary challenges, and troublesome tow ropes.
About Author
Jerome Klapka Jerome (2 May 1859 – 14 June 1927) was an English writer and humourist, best known for the comic travelogue Three Men in a Boat (1889). Other works include the essay collections Idle Thoughts of an Idle Fellow (1886) and Second Thoughts of an Idle Fellow; Three Men on the Bummel, a sequel to Three Men in a Boat, and several other novels.
Quotes From this Book
"I can't sit still and see another man slaving and working. I want to get up and superintend, and walk round with my hands in my pockets, and tell him what to do. It is my energetic nature. I can't help it."
"Let your boat of life be light, packed with only what you need – a homely home and simple pleasures, one or two friends, worth the name, someone to love and someone to love you, a cat, a dog, and a pipe or two, enough to eat and enough to wear, and a little more than enough to drink; for thirst is a dangerous thing. "
"I don't know why it should be, I am sure; but the sight of another man asleep in bed when I am up, maddens me."
"But who wants to be foretold the weather? It is bad enough when it comes, without our having the misery of knowing about it beforehand."
"I don't understand German myself. I learned it at school, but forgot every word of it two years after I had left, and have felt much better ever since."