Books Tagged 'Novels'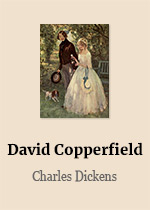 Subject: Fiction
David Copperfield is the eighth novel by Charles Dickens. The novel features the character David Copperfield, and is written in the first person, as a description of his life un...
Tags: Classics, Fiction, Novels, Historical, Literature
Subject: Fiction
Ulysses is a modernist novel by Irish writer James Joyce. It was first serialized in parts in the American journal The Little Review from March 1918 to December 1920 and then pu...
Tags: Novels, Literature, Ireland
Subject: Fiction
In Russia's struggle with Napoleon, Tolstoy saw a tragedy that involved all mankind. Greater than a historical chronicle, War and Peace is an affirmation of life itself, `...
Tags: Classics, Novels, Historical, Literature, Russia, War