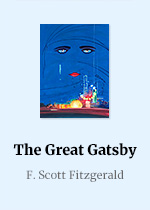 Description
The Great Gatsby, F. Scott Fitzgerald's third book, stands as the supreme achievement of his career. This exemplary novel of the Jazz Age has been acclaimed by generations of readers. The story of the fabulously wealthy Jay Gatsby and his love for the beautiful Daisy Buchanan, of lavish parties on Long Island at a time when The New York Times noted "gin was the national drink and sex the national obsession," it is an exquisitely crafted tale of America in the 1920s.
The Great Gatsby is one of the great classics of twentieth-century literature.
About Author
Francis Scott Key Fitzgerald was an American writer of novels and short stories, whose works have been seen as evocative of the Jazz Age, a term he himself allegedly coined. He is regarded as one of the greatest twentieth century writers. Fitzgerald was of the self-styled "Lost Generation," Americans born in the 1890s who came of age during World War I. He finished four novels, left a fifth unfinished, and wrote dozens of short stories that treat themes of youth, despair, and age.
Quotes From this Book
"So we beat on, boats against the current, borne back ceaselessly into the past."
"I hope she'll be a fool — that's the best thing a girl can be in this world, a beautiful little fool."
"Angry, and half in love with her, and tremendously sorry, I turned away."
"And I like large parties. They're so intimate. At small parties there isn't any privacy."
"I was within and without, simultaneously enchanted and repelled by the inexhaustible variety of life."
"And so with the sunshine and the great bursts of leaves growing on the trees, just as things grow in fast movies, I had that familiar conviction that life was beginning over again with the summer."
"I wasn't actually in love, but I felt a sort of tender curiosity."
"He smiled understandingly-much more than understandingly. It was one of those rare smiles with a quality of eternal reassurance in it, that you may come across four or five times in life. It faced–or seemed to face–the whole eternal world for an instant, and then concentrated on you with an irresistible prejudice in your favor. It understood you just as far as you wanted to be understood, believed in you as you would like to believe in yourself, and assured you that it had precisely the impression of you that, at your best, you hoped to convey."
"Let us learn to show our friendship for a man when he is alive and not after he is dead."