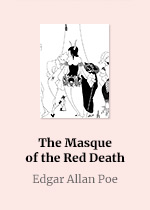 Description
"The Masque of the Red Death", originally published as "The Mask of the Red Death: A Fantasy", is a short story by American writer Edgar Allan Poe, first published in 1842. The story follows Prince Prospero's attempts to avoid a dangerous plague, known as the Red Death, by hiding in his abbey. He, along with many other wealthy nobles, hosts a masquerade ball within seven rooms of the abbey, each decorated with a different color. In the midst of their revelry, a mysterious figure disguised as a Red Death victim enters and makes his way through each of the rooms. Prospero dies after confronting this stranger, whose "costume" proves to contain nothing tangible inside it; the guests also die in turn.
Poe's story follows many traditions of Gothic fiction and is often analyzed as an allegory about the inevitability of death, though some critics advise against an allegorical reading. Many different interpretations have been presented, as well as attempts to identify the true nature of the eponymous disease. The story was first published in May 1842 in Graham's Magazine and has since been adapted in many different forms, including a 1964 film starring Vincent Price. Poe's short story has also been alluded to by other works in many types of media.
About Author
Edgar Allan Poe (/poʊ/; born Edgar Poe; January 19, 1809 – October 7, 1849) was an American writer, poet, editor, and literary critic. Poe is best known for his poetry and short stories, particularly his tales of mystery and the macabre. He is widely regarded as a central figure of Romanticism in the United States and of American literature as a whole, and he was one of the country's earliest practitioners of the short story. He is also generally considered the inventor of the detective fiction genre and is further credited with contributing to the emerging genre of science fiction. Poe was the first well-known American writer to earn a living through writing alone, resulting in a financially difficult life and career.
Quotes From this Book
"There are chords in the hearts of the most reckless which cannot be touched without emotion."
"Even with the utterly lost, to whom life and death are equally jests, there are matters of which no jest can be made."
"There are chords in the hearts of the most reckless which cannot be touched without emotion, even by the utterly lost, to whom life and death are equally jests, there are matters of which no jest can be made."
"There was much of the beautiful, much of the wanton, much of the bizarre, something of the terrible, and not a little of that which might have excited disgust."