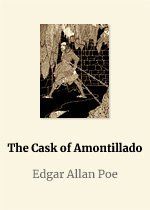 Description
"The Cask of Amontillado" (sometimes spelled "The Casque of Amontillado") is a short story by Edgar Allan Poe. The story, set in an unnamed Italian city at carnival time in an unspecified year, is about a man taking fatal revenge on a friend who, he believes, has insulted him. Like several of Poe's stories, and in keeping with the 19th-century fascination with the subject, the narrative revolves around a person being buried alive – in this case, by immurement. As in "The Black Cat" and "The Tell-Tale Heart", Poe conveys the story from the murderer's perspective.
Summary
The Cask of Amontillado is widely considered to be one of the most perfect short stories ever written. Told by the unreliable narrator Montresor-a man who sought vengeance against his acquaintance for an insult that the reader is not privy to-the story details how Montresor accomplished his revenge.
About Author
Edgar Allan Poe (January 19, 1809 – October 7, 1849) was an American writer, poet, editor, and literary critic. Poe is best known for his poetry and short stories, particularly his tales of mystery and the macabre. He is widely regarded as a central figure of Romanticism in the United States and of American literature as a whole, and he was one of the country's earliest practitioners of the short story. He is also generally considered the inventor of the detective fiction genre and is further credited with contributing to the emerging genre of science fiction.
Quotes From this Book
"A million candles have burned themselves out. Still I read on. (Montresor)"
"Yes," I said, "for the love of God!"
"I continued, as was my wont, to smile in his face, and he did not perceive that my smile now was at the thought of his immolation."
"Una injuria queda sin reparar, cuando su justo castigo perjudica al vengador."