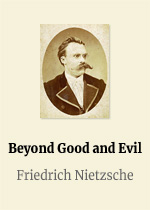 Description
Beyond Good and Evil: Prelude to a Philo
Quotes From this Book
sophy of the Future (German: Jenseits von Gut und Böse: Vorspiel einer Philosophie der Zukunft) is a book by philosopher Friedrich Nietzsche that expands the ideas of his previous work Thus Spoke Zarathustra with a more critical and polemical approach. It was first published in 1886.
In Beyond Good and Evil, Nietzsche accuses past philosophers of lacking critical sense and blindly accepting dogmatic premises in their consideration of morality. Specifically, he accuses them of founding grand metaphysical systems upon the faith that the good man is the opposite of the evil man, rather than just a different expression of the same basic impulses that find more direct expression in the evil man. The work moves into the realm "beyond good and evil" in the sense of leaving behind the traditional morality which Nietzsche subjects to a destructive critique in favour of what he regards as an affirmative approach that fearlessly confronts the perspectival nature of knowledge and the perilous condition of the modern individual.
About Author
Friedrich Wilhelm Nietzsche (15 October 1844 – 25 August 1900) was a German philosopher, cultural critic, composer, poet, and philologist whose work has exerted a profound influence on modern intellectual history. He began his career as a classical philologist before turning to philosophy. He became the youngest person ever to hold the Chair of Classical Philology at the University of Basel in 1869 at the age of 24. Nietzsche resigned in 1879 due to health problems that plagued him most of his life; he completed much of his core writing in the following decade. In 1889, at age 44, he suffered a collapse and afterward a complete loss of his mental faculties.
Quotes From this Book
"One must shed the bad taste of wanting to agree with many. "Good" is no longer good when one's neighbor mouths it. And how should there be a "common good"! The term contradicts itself: whatever can be common always has little value. In the end it must be as it is and always has been: great things remain for the great, abysses for the profound, nuances and shudders for the refined, and, in brief, all that is rare for the rare."
"Madness is something rare in individuals — but in groups, parties, peoples, and ages, it is the rule."
"It is the business of the very few to be independent; it is a privilege of the strong. And whoever attempts it, even with the best right, but without being OBLIGED to do so, proves that he is probably not only strong, but also daring beyond measure. He enters into a labyrinth, he multiplies a thousandfold the dangers which life in itself already brings with it; not the least of which is that no one can see how and where he loses his way, becomes isolated, and is torn piecemeal by some minotaur of conscience. Supposing such a one comes to grief, it is so far from the comprehension of men that they neither feel it, nor sympathize with it. And he cannot any longer go back! He cannot even go back again to the sympathy of men!"
"I obviously do everything to be "hard to understand" myself"
"One loves ultimately one's desires, not the thing desired."
"The text has disappeared under the interpretation."