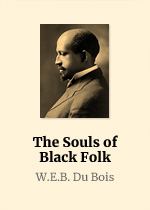 Description
The Souls of Black Folk is a 1903 work of American literature by W. E. B. Du Bois. It is a seminal work in the history of sociology and a cornerstone of African-American literature.
The book contains several essays on race, some of which the magazine Atlantic Monthly had previously published. To develop this work, Du Bois drew from his own experiences as an African American in American society. Outside of its notable relevance in African-American history, The Souls of Black Folk also holds an important place in social science as one of the early works in the field of sociology.
In The Souls of Black Folk, Du Bois used the term "double consciousness", perhaps taken from Ralph Waldo Emerson ("The Transcendentalist" and "Fate"), applying it to the idea that black people must have two fields of vision at all times. They must be conscious of how they view themselves, as well as being conscious of how the world views them.
About Author
William Edward Burghardt Du Bois (February 23, 1868 – August 27, 1963) was an American sociologist, socialist, historian, civil rights activist, Pan-Africanist, author, writer and editor. Born in Great Barrington, Massachusetts, Du Bois grew up in a relatively tolerant and integrated community, and after completing graduate work at the University of Berlin and Harvard, where he was the first African American to earn a doctorate, he became a professor of history, sociology and economics at Atlanta University. Du Bois was one of the founders of the National Association for the Advancement of Colored People (NAACP) in 1909.
Before that, Du Bois had risen to national prominence as the leader of the Niagara Movement, a group of African-American activists that wanted equal rights for blacks. Du Bois and his supporters opposed the Atlanta compromise, an agreement crafted by Booker T. Washington which provided that Southern blacks would work and submit to white political rule, while Southern whites guaranteed that blacks would receive basic educational and economic opportunities. Instead, Du Bois insisted on full civil rights and increased political representation, which he believed would be brought about by the African-American intellectual elite. He referred to this group as the Talented Tenth, a concept under the umbrella of Racial uplift, and believed that African Americans needed the chances for advanced education to develop its leadership.
Quotes From this Book
"Herein lies the tragedy of the age: not that men are poor, — all men know something of poverty; not that men are wicked, — who is good? not that men are ignorant, — what is Truth? Nay, but that men know so little of men."
"One ever feels his twoness, — an American, a Negro; two souls, two thoughts, two unreconciled strivings; two warring ideals in one dark body, whose strength alone keeps it from being torn asunder."
"The problem of the twentieth century is the problem of the color line."
"To the real question, How does it feel to be a problem? I answer seldom a word."