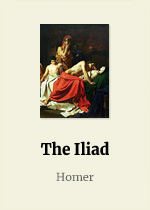 Description
Dating to the ninth century B.C., Homer's timeless poem still vividly conveys the horror and heroism of men and gods wrestling with towering emotions and battling amidst devastation and destruction, as it moves inexorably to the wrenching, tragic conclusion of the Trojan War. Renowned classicist Bernard Knox observes in his superb introduction that although the violence of the Iliad is grim and relentless, it coexists with both images of civilized life and a poignant yearning for peace.
Combining the skills of a poet and scholar, Robert Fagles, winner of the PEN/Ralph Manheim Medal for Translation and a 1996 Academy Award in Literature from the American Academy of Arts and Letters, brings the energy of contemporary language to this enduring heroic epic. He maintains the drive and metric music of Homer's poetry, and evokes the impact and nuance of the Iliad's mesmerizing repeated phrases in what Peter Levi calls "an astonishing performance."
About Author
Homer (/ˈhoʊmər/; Ancient Greek: Ὅμηρος Greek pronunciation: [hómɛːros], Hómēros) is the presumed author of the Iliad and the Odyssey, two epic poems that are the central works of ancient Greek literature. The Iliad is set during the Trojan War, the ten-year siege of the city of Troy by a coalition of Greek kingdoms. It focuses on a quarrel between King Agamemnon and the warrior Achilles lasting a few weeks during the last year of the war. The Odyssey focuses on the ten-year journey home of Odysseus, king of Ithaca, after the fall of Troy. Many accounts of Homer's life circulated in classical antiquity, the most widespread being that he was a blind bard from Ionia, a region of central coastal Anatolia in present-day Turkey. Modern scholars consider these accounts legendary.
Quotes From this Book
"…There is the heat of Love, the pulsing rush of Longing, the lover's whisper, irresistible—magic to make the sanest man go mad."
"Hateful to me as the gates of Hades is that man who hides one thing in his heart and speaks another."
"Any moment might be our last. Everything is more beautiful because we're doomed. You will never be lovelier than you are now. We will never be here again."
"Let me not then die ingloriously and without a struggle, but let me first do some great thing that shall be told among men hereafter."
"Like the generations of leaves, the lives of mortal men. Now the wind scatters the old leaves across the earth, now the living timber bursts with the new buds and spring comes round again. And so with men: as one generation comes to life, another dies away."