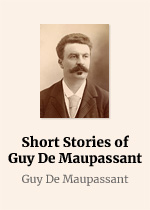 Complete Original Short Stories of Guy De Maupassant
Author: Guy De Maupassant
Subject: Fiction
Tags: Short Stories, Fiction, Literature, France
Republished: Oct 06, 2020
Language: English
Goodreads Rating: 4.19
Description
"I entered literary life as a meteor, and I shall leave it like a thunderbolt. " These words of Maupassant to Jose Maria de Heredia on the occasion of a memorable meeting are, in spite of their morbid solemnity, not an inexact summing up of the brief career during which, for ten years, the writer, by turns undaunted and sorrowful, with the fertility of a master hand produced poetry, novels, romances and travels, only to sink prematurely into the abyss of madness and death…..This book contains all thirteen volumes of his original short stories.
About Author
Henri René Albert Guy de Maupassant (5 August 1850 – 6 July 1893) was a 19th-century French author, remembered as a master of the short story form, and as a representative of the Naturalist school, who depicted human lives and destinies and social forces in disillusioned and often pessimistic terms.
Maupassant was a protégé of Gustave Flaubert and his stories are characterized by economy of style and efficient, seemingly effortless dénouements (outcomes). Many are set during the Franco-Prussian War of the 1870s, describing the futility of war and the innocent civilians who, caught up in events beyond their control, are permanently changed by their experiences. He wrote 300 short stories, six novels, three travel books, and one volume of verse.