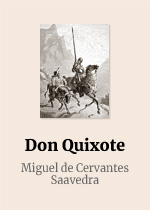 Description
Don Quixote is a Spanish novel by Miguel de Cervantes. It was published in two parts, in 1605 and 1615. A founding work of Western literature, it is often labeled "the first modern novel" and many authors consider it to be the best literary work ever written.
The plot revolves around the adventures of a noble (hidalgo) from La Mancha named Alonso Quixano, who reads so many chivalric romances that he loses his mind and decides to become a knight-errant (caballero andante) to revive chivalry and serve his nation, under the name Don Quixote de la Mancha. He recruits a simple farmer, Sancho Panza, as his squire, who often employs a unique, earthy wit in dealing with Don Quixote's rhetorical monologues on knighthood, already considered old-fashioned at the time. Don Quixote, in the first part of the book, does not see the world for what it is and prefers to imagine that he is living out a knightly story.
About Author
Miguel de Cervantes Saavedra (29 September 1547 (assumed) – 22 April 1616 NS) was a Spanish writer widely regarded as the greatest writer in the Spanish language, and one of the world's pre-eminent novelists. He is best known for his novel Don Quixote, a work often cited as both the first modern novel, and one of the pinnacles of literature.
Much of his life was spent in poverty and obscurity, many of its details are disputed or unknown, and the bulk of his surviving work was produced in the three years preceding his death. Despite this, his influence and literary contribution are reflected by the fact that Spanish is often referred to as "the language of Cervantes".
Quotes From this Book
"Finally, from so little sleeping and so much reading, his brain dried up and he went completely out of his mind."
"The truth may be stretched thin, but it never breaks, and it always surfaces above lies, as oil floats on water."
"When life itself seems lunatic, who knows where madness lies? Perhaps to be too practical is madness. To surrender dreams — this may be madness. Too much sanity may be madness — and maddest of all: to see life as it is, and not as it should be!"
"There is no book so bad…that it does not have something good in it."
"There were no embraces, because where there is great love there is often little display of it."