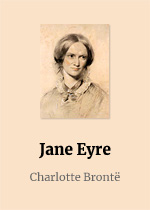 Description
Jane Eyre (originally published as Jane Eyre: An Autobiography) is a novel by English writer Charlotte Brontë, published under the pen name "Currer Bell", on 16 October 1847, by Smith, Elder & Co. of London. The first American edition was published the following year by Harper & Brothers of New York. Jane Eyre is a Bildungsroman which follows the experiences of its eponymous heroine, including her growth to adulthood and her love for Mr. Rochester, the brooding master of Thornfield Hall.
The novel revolutionised prose fiction by being the first to focus on its protagonist's moral and spiritual development through an intimate first-person narrative, where actions and events are coloured by a psychological intensity. Charlotte Brontë has been called the "first historian of the private consciousness", and the literary ancestor of writers like Proust and Joyce.
The book contains elements of social criticism with a strong sense of Christian morality at its core, and it is considered by many to be ahead of its time because of Jane's individualistic character and how the novel approaches the topics of class, sexuality, religion, and feminism. It, along with Jane Austen's Pride and Prejudice, is one of the most famous romance novels of all time.
About Author
Charlotte Brontë (21 April 1816 – 31 March 1855) was an English novelist and poet, the eldest of the three Brontë sisters who survived into adulthood and whose novels became classics of English literature.
She enlisted in school at Roe Head in January 1831, aged 14 years. She left the year after to teach her sisters, Emily and Anne, at home, returning in 1835 as a governess. In 1839 she undertook the role as governess for the Sidgwick family but left after a few months to return to Haworth where the sisters opened a school, but failed to attract pupils. Instead, they turned to writing and they each first published in 1846 under the pseudonyms of Currer, Ellis and Acton Bell. While her first novel, The Professor, was rejected by publishers, her second novel, Jane Eyre, was published in 1847. The sisters admitted to their Bell pseudonyms in 1848, and by the following year were celebrated in London literary circles.
Quotes From this Book
"I am no bird; and no net ensnares me: I am a free human being with an independent will."
"I would always rather be happy than dignified."
"Do you think I am an automaton? — a machine without feelings? and can bear to have my morsel of bread snatched from my lips, and my drop of living water dashed from my cup? Do you think, because I am poor, obscure, plain, and little, I am soulless and heartless? You think wrong! — I have as much soul as you — and full as much heart! And if God had gifted me with some beauty and much wealth, I should have made it as hard for you to leave me, as it is now for me to leave you. I am not talking to you now through the medium of custom, conventionalities, nor even of mortal flesh: it is my spirit that addresses your spirit; just as if both had passed through the grave, and we stood at God's feet, equal — as we are!"
"I care for myself. The more solitary, the more friendless, the more unsustained I am, the more I will respect myself."
"Life appears to me too short to be spent in nursing animosity or registering wrongs."