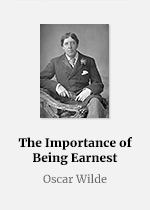 Description
The Importance of Being Earnest, A Trivial Comedy for Serious People is a play by Oscar Wilde. First performed on 14 February 1895 at the St James's Theatre in London, it is a farcical comedy in which the protagonists maintain fictitious personae to escape burdensome social obligations. Working within the social conventions of late Victorian London, the play's major themes are the triviality with which it treats institutions as serious as marriage, and the resulting satire of Victorian ways. Some contemporary reviews praised the play's humour and the culmination of Wilde's artistic career, while others were cautious about its lack of social messages. Its high farce and witty dialogue have helped make The Importance of Being Earnest Wilde's most enduringly popular play.
The successful opening night marked the climax of Wilde's career but also heralded his downfall. The Marquess of Queensberry, whose son Lord Alfred Douglas was Wilde's lover, planned to present the writer with a bouquet of rotten vegetables and disrupt the show. Wilde was tipped off and Queensberry was refused admission. Their feud came to a climax in court, where Wilde's homosexuality was revealed to the Victorian public and he was sentenced to imprisonment. Despite the play's early success, Wilde's notoriety caused the play to be closed after 86 performances. After his release from prison, he published the play from exile in Paris, but he wrote no further comic or dramatic work.
The Importance of Being Earnest has been revived many times since its premiere. It has been adapted for the cinema on three occasions. In The Importance of Being Earnest (1952), Dame Edith Evans reprised her celebrated interpretation of Lady Bracknell; The Importance of Being Earnest (1992) by Kurt Baker used an all-black cast; and Oliver Parker's The Importance of Being Earnest (2002) incorporated some of Wilde's original material cut during the preparation of the original stage production.
About Author
Oscar Fingal O'Flahertie Wills Wilde (16 October 1854 – 30 November 1900) was an Irish playwright, poet, and author of numerous short stories, and one novel. Known for his biting wit, and a plentitude of aphorisms, he became one of the most successful playwrights of the late Victorian era in London, and one of the greatest celebrities of his day. Several of his plays continue to be widely performed, especially The Importance of Being Earnest.
As the result of a widely covered series of trials, Wilde suffered a dramatic downfall and was imprisoned for two years hard labour after being convicted of "gross indecency" with other men. After Wilde was released from prison he set sail for Dieppe by the night ferry. He never returned to Ireland or Britain, and died in poverty.
Quotes From this Book
"The truth is rarely pure and never simple."
"I never travel without my diary. One should always have something sensational to read in the train."
"All women become like their mothers. That is their tragedy. No man does, and that is his."
"To lose one parent, Mr. Worthing, may be regarded as a misfortune; to lose both looks like carelessness."
"The good ended happily, and the bad unhappily. That is what Fiction means."