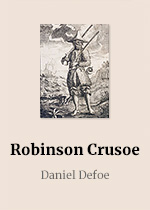 The Life and Adventures of Robinson Crusoe
Author: Daniel Defoe
Subject: Fiction
Tags: Classics, Adventure, Fiction, Literature
Republished: Sep 15, 2020
Language: English
Goodreads Rating: 3.77
Description
Robinson Crusoe is a novel by Daniel Defoe, first published on 25 April 1719. Epistolary, confessional, and didactic in form, the book is presented as an autobiography of the title character (whose birth name is Robinson Kreutznaer) – a castaway who spends 28 years on a remote tropical desert island near the coasts of Venezuela and Trinidad, encountering cannibals, captives, and mutineers, before ultimately being rescued.
Despite its simple narrative style, Robinson Crusoe was well received in the literary world and is often credited as marking the beginning of realistic fiction as a literary genre. It is generally seen as a contender for the first English novel.
Summary
Robinson Crusoe, a novel by Daniel Defoe, is the autobiography of a man who spends twenty-eight years stranded on a remote tropical island in the Caribbean. During this time, he builds a shelter, cultivates some crops, raises goats, and finds religion from reading the bible. He also encounters cannibalistic natives, one of whom he converts to Christianity.
About Author
Daniel Defoe (c. 1660 – 24 April 1731), was an English trader, writer, journalist, pamphleteer and spy. He is most famous for his novel Robinson Crusoe, published in 1719, which is claimed to be second only to the Bible in its number of translations. He has been seen as one of the earliest proponents of the English novel, and helped to popularise the form in Britain with others such as Aphra Behn and Samuel Richardson.
Defoe was a prolific and versatile writer, producing more than three hundred works—books, pamphlets, and journals—on diverse topics, including politics, crime, religion, marriage, psychology, and the supernatural. He was also a pioneer of business journalism and economic journalism.