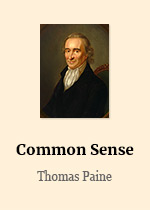 Description
Common Sense is a pamphlet written by Thomas Paine in 1775–1776 advocating independence from Great Britain to people in the Thirteen Colonies. Writing in clear and persuasive prose, Paine marshaled moral and political arguments to encourage common people in the Colonies to fight for egalitarian government. It was published anonymously on January 10, 1776, at the beginning of the American Revolution, and became an immediate sensation.
Common Sense made public a persuasive and impassioned case for independence, which had not yet been given serious intellectual consideration. Paine connected independence with common dissenting Protestant beliefs as a means to present a distinctly American political identity and structured Common Sense as if it were a sermon. Historian Gordon S. Wood described Common Sense as "the most incendiary and popular pamphlet of the entire revolutionary era."
About Author
Thomas Paine (February 9, 1737 [O.S. January 29, 1736] – June 8, 1809) was an English-born American political activist, philosopher, political theorist, and revolutionary. He authored Common Sense (1776) and The American Crisis (1776–1783), the two most influential pamphlets at the start of the American Revolution, and helped inspire the patriots in 1776 to declare independence from Great Britain. His ideas reflected Enlightenment-era ideals of transnational human rights. Historian Saul K. Padover described him as "a corsetmaker by trade, a journalist by profession, and a propagandist by inclination".
Quotes From this Book
"A long habit of not thinking a thing wrong, gives it a superficial appearance of being right, and raises at first a formidable outcry in defense of custom. But the tumult soon subsides. Time makes more converts than reason."
"Time makes more converts than reason."
"Society is produced by our wants, and government by wickedness; the former promotes our happiness positively by uniting our affections, the latter negatively by restraining our vices. The one encourages intercourse, the other creates distinctions. The first is a patron, the last a punisher."
"From the errors of other nations, let us learn wisdom,"
"Give me liberty, or give me death."