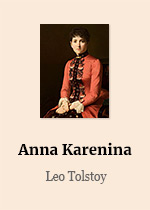 Description
Anna Karenina is a novel by the Russian author Leo Tolstoy, first published in book form in 1878. Many writers consider Anna Karenina the greatest work of literature ever, and Tolstoy himself called it his first true novel.
A complex novel in eight parts, with more than a dozen major characters, typically contained in two volumes. It deals with themes of betrayal, faith, family, marriage, Imperial Russian society, desire, and rural vs. city life. The plot centers on an extramarital affair between Anna and dashing cavalry officer Count Alexei Kirillovich Vronsky that scandalizes the social circles of Saint Petersburg and forces the young lovers to flee to Italy in a search for happiness. After they return to Russia, their lives further unravel.
Summary
A magnificent drama of vengeance, infidelity, and retribution, Anna Karenina tells the story of two characters whose emotional instincts conflict with the dominant social mores of their time.Sensual, rebellious Anna falls deeply and passionately in love with the handsome Count Vronsky. When she refuses to conduct the discreet affair that her cold, ambitious husband – and Russian high society – would condone, she is doomed. Set against the tragic love of Anna and Vronsky, the plight of the melancholy nobleman Konstantine Levin unfolds. In doubt about the meaning of life – a mirror of Tolstoy's own spiritual crisis – Konstantine is haunted by thoughts of suicide.
About Author
Lev Nikolayevich Tolstoy (9 September [O.S. 28 August] 1828 – 20 November [O.S. 7 November] 1910) was a Russian writer who primarily wrote novels and short stories. Later in life, he also wrote plays and essays. His two most famous works, the novels War and Peace and Anna Karenina, are acknowledged as two of the greatest novels of all time and a pinnacle of realist fiction. Many consider Tolstoy to have been one of the world's greatest novelists. Tolstoy is equally known for his complicated and paradoxical persona and for his extreme moralistic and ascetic views, which he adopted after a moral crisis and spiritual awakening in the 1870s, after which he also became noted as a moral thinker and social reformer.
Quotes From this Book
"All happy families are alike; each unhappy family is unhappy in its own way."
"If you look for perfection, you'll never be content."
"I think… if it is true that there are as many minds as there are heads, then there are as many kinds of love as there are hearts."
"He stepped down, trying not to look long at her, as if she were the sun, yet he saw her, like the sun, even without looking."
"Respect was invented to cover the empty place where love should be."
"Spring is the time of plans and projects."
"Is it really possible to tell someone else what one feels?"