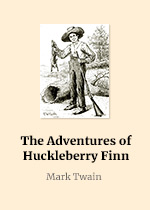 Description
The Adventures of Huckleberry Finn) is a novel by Mark Twain, first published in the United Kingdom in December 1884 and in the United States in February 1885. Commonly named among the Great American Novels, the work is among the first in major American literature to be written throughout in vernacular English, characterized by local color regionalism. It is told in the first person by Huckleberry "Huck" Finn, the narrator of two other Twain novels (Tom Sawyer Abroad and Tom Sawyer, Detective) and a friend of Tom Sawyer. It is a direct sequel to The Adventures of Tom Sawyer.
The book is noted for its colorful description of people and places along the Mississippi River. Set in a Southern antebellum society that had ceased to exist over 20 years before the work was published, Adventures of Huckleberry Finn is an often scathing satire on entrenched attitudes, particularly racism.
About Author
Samuel Langhorne Clemens (November 30, 1835 – April 21, 1910), known by his pen name Mark Twain, was an American writer, humorist, entrepreneur, publisher, and lecturer. He was lauded as the "greatest humorist [the United States] has produced", and William Faulkner called him "the father of American literature".[3] His novels include The Adventures of Tom Sawyer (1876) and its sequel, the Adventures of Huckleberry Finn (1884), the latter often called "The Great American Novel".
Twain was raised in Hannibal, Missouri, which later provided the setting for Tom Sawyer and Huckleberry Finn. He served an apprenticeship with a printer and then worked as a typesetter, contributing articles to the newspaper of his older brother Orion Clemens. He later became a riverboat pilot on the Mississippi River before heading west to join Orion in Nevada. He referred humorously to his lack of success at mining, turning to journalism for the Virginia City Territorial Enterprise. His humorous story, "The Celebrated Jumping Frog of Calaveras County", was published in 1865, based on a story that he heard at Angels Hotel in Angels Camp, California, where he had spent some time as a miner. The short story brought international attention and was even translated into French. His wit and satire, in prose and in speech, earned praise from critics and peers, and he was a friend to presidents, artists, industrialists, and European royalty.
Quotes From this Book
"All right, then, I'll go to hell."
"That is just the way with some people. They get down on a thing when they don't know nothing about it."
"Human beings can be awful cruel to one another."
"Jim said that bees won't sting idiots, but I didn't believe that, because I tried them lots of times myself and they wouldn't sting me."
"Right is right, and wrong is wrong, and a body ain't got no business doing wrong when he ain't ignorant and knows better."