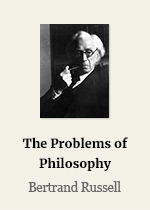 Description
The Problems of Philosophy is a 1912 book by the philosopher Bertrand Russell, in which the author attempts to create a brief and accessible guide to the problems of philosophy. He introduces philosophy as a repeating series of (failed) attempts to answer the same questions: Can we prove that there is an external world? Can we prove cause and effect? Can we validate any of our generalizations? Can we objectively justify morality? He asserts that philosophy cannot answer any of these questions and that any value of philosophy must lie elsewhere than in offering proofs to these questions. Wittgenstein suggested further that these questions are empty and the value of philosophy is as an assistant to science.
Focusing on problems he believes will provoke positive and constructive discussion, Russell concentrates on knowledge rather than metaphysics: If it is uncertain that external objects exist, how can we then have knowledge of them but by probability. There is no reason to doubt the existence of external objects simply because of sense data.
About Author
Bertrand Arthur William Russell, 3rd Earl Russell OM FRS (18 May 1872 – 2 February 1970) was a British polymath, philosopher, logician, mathematician, historian, writer, social critic, political activist, and Nobel laureate. Throughout his life, Russell considered himself a liberal, a socialist and a pacifist, although he also sometimes suggested that his sceptical nature had led him to feel that he had "never been any of these things, in any profound sense". Russell was born in Monmouthshire into one of the most prominent aristocratic families in the United Kingdom.
In the early 20th century, Russell led the British "revolt against idealism". He is considered one of the founders of analytic philosophy along with his predecessor Gottlob Frege, colleague G. E. Moore and protégé Ludwig Wittgenstein. He is widely held to be one of the 20th century's premier logicians. With A. N. Whitehead he wrote Principia Mathematica, an attempt to create a logical basis for mathematics, the quintessential work of classical logic. His philosophical essay "On Denoting" has been considered a "paradigm of philosophy". His work has had a considerable influence on mathematics, logic, set theory, linguistics, artificial intelligence, cognitive science, computer science (see type theory and type system) and philosophy, especially the philosophy of language, epistemology and metaphysics.
Quotes From this Book
"Some care is needed in using Descartes' argument. "I think, therefore I am" says rather more than is strictly certain. It might seem as though we are quite sure of being the same person to-day as we were yesterday, and this is no doubt true in some sense. But the real Self is as hard to arrive at as the real table, and does not seem to have that absolute, convincing certainty that belongs to particular experiences."
"Is there any knowledge in the world which is so certain that no reasonable man could doubt it?"
"Whoever wishes to become a philosopher must learn not to be frightened by absurdities."