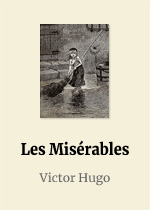 Description
Les Misérables is a French historical novel by Victor Hugo, first published in 1862, that is considered one of the greatest novels of the 19th century. Beginning in 1815 and culminating in the 1832 June Rebellion in Paris, the novel follows the lives and interactions of several characters, particularly the struggles of ex-convict Jean Valjean and his experience of redemption.
Examining the nature of law and grace, the novel elaborates upon the history of France, the architecture and urban design of Paris, politics, moral philosophy, antimonarchism, justice, religion, and the types and nature of romantic and familial love. Les Misérables has been popularized through numerous adaptations for film, television and the stage, including a musical.
About Author
Victor Marie Hugo (26 February 1802 – 22 May 1885) was a French poet, novelist, and dramatist of the Romantic movement. During a literary career that spanned more than sixty years, he wrote abundantly in an exceptional variety of genres: lyrics, satires, epics, philosophical poems, epigrams, novels, history, critical essays, political speeches, funeral orations, diaries, letters public and private, and dramas in verse and prose.
Hugo is considered to be one of the greatest and best-known French writers. Outside France, his most famous works are the novels Les Misérables, 1862, and The Hunchback of Notre-Dame (French: Notre-Dame de Paris), 1831. In France, Hugo is renowned for his poetry collections, such as Les Contemplations (The Contemplations) and La Légende des siècles (The Legend of the Ages). Hugo was at the forefront of the Romantic literary movement with his play Cromwell and drama Hernani. Many of his works have inspired music, both during his lifetime and after his death, including the musicals Les Misérables and Notre-Dame de Paris.
Quotes From this Book
"He never went out without a book under his arm, and he often came back with two."
"Even the darkest night will end and the sun will rise."
"What Is Love? I have met in the streets a very poor young man who was in love. His hat was old, his coat worn, the water passed through his shoes and the stars through his soul"
"To love another person is to see the face of God."
"The power of a glance has been so much abused in love stories, that it has come to be disbelieved in. Few people dare now to say that two beings have fallen in love because they have looked at each other. Yet it is in this way that love begins, and in this way only."
"It is nothing to die. It is frightful not to live."