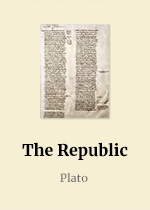 Description
The Republic (Greek: Πολιτεία) is a Socratic dialogue, authored by Plato around 375 BC, concerning justice (δικαιοσύνη), the order and character of the just city-state, and the just man. It is Plato's best-known work, and has proven to be one of the world's most influential works of philosophy and political theory, both intellectually and historically.
In the dialogue, Socrates talks with various Athenians and foreigners about the meaning of justice and whether the just man is happier than the unjust man. They consider the natures of existing regimes and then propose a series of different, hypothetical cities in comparison, culminating in Kallipolis (Καλλίπολις), a utopian city-state ruled by a philosopher king. They also discuss the theory of forms, the immortality of the soul, and the role of the philosopher and of poetry in society. The dialogue's setting seems to be during the Peloponnesian War.
About Author
Plato (428/427 or 424/423 – 348/347 BC) was an Athenian philosopher during the Classical period in Ancient Greece, founder of the Platonist school of thought, and the Academy, the first institution of higher learning in the Western world.
He is widely considered the pivotal figure in the history of Ancient Greek and Western philosophy, along with his teacher, Socrates, and his most famous student, Aristotle. Plato has also often been cited as one of the founders of Western religion and spirituality. The so-called Neoplatonism of philosophers like Plotinus and Porphyry influenced Saint Augustine and thus Christianity. Alfred North Whitehead once noted: "the safest general characterization of the European philosophical tradition is that it consists of a series of footnotes to Plato."
Plato was the innovator of the written dialogue and dialectic forms in philosophy. Plato is also considered the founder of Western political philosophy. His most famous contribution is the theory of Forms known by pure reason, in which Plato presents a solution to the problem of universals known as Platonism (also ambiguously called either Platonic realism or Platonic idealism). He is also the namesake of Platonic love and the Platonic solids.
His own most decisive philosophical influences are usually thought to have been along with Socrates, the pre-Socratics Pythagoras, Heraclitus and Parmenides, although few of his predecessors' works remain extant and much of what we know about these figures today derives from Plato himself. Unlike the work of nearly all of his contemporaries, Plato's entire body of work is believed to have survived intact for over 2,400 years. Although their popularity has fluctuated over the years, the works of Plato have never been without readers since the time they were written.
Quotes From this Book
"The heaviest penalty for declining to rule is to be ruled by someone inferior to yourself."
"I am the wisest man alive, for I know one thing, and that is that I know nothing."
"If women are expected to do the same work as men, we must teach them the same things."
"The beginning is the most important part of the work."
"The object of education is to teach us to love what is beautiful."