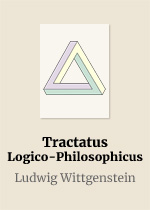 Description
The Tractatus Logico-Philosophicus (widely abbreviated and cited as TLP) (Latin for Logical Philosophical Treatise or Treatise on Logic and Philosophy) is the only book-length philosophical work by the Austrian philosopher Ludwig Wittgenstein that was published during his lifetime. The project had a broad goal: to identify the relationship between language and reality and to define the limits of science. It is recognized by philosophers as a significant philosophical work of the twentieth century. G. E. Moore originally suggested the work's Latin title as homage to the Tractatus Theologico-Politicus by Baruch Spinoza.
About Author
Ludwig Josef Johann Wittgenstein (26 April 1889 – 29 April 1951) was an Austrian-British philosopher who worked primarily in logic, the philosophy of mathematics, the philosophy of mind, and the philosophy of language.
Described by Bertrand Russell as "the most perfect example I have ever known of genius as traditionally conceived, passionate, profound, intense, and dominating", he helped inspire two of the twentieth century's principal philosophical movements: the Vienna Circle and Oxford ordinary language philosophy. According to an end of the century poll, professional philosophers in Canada and the U.S. rank both his Tractatus Logico-Philosophicus and Philosophical Investigations among the top five most important books in twentieth-century philosophy, the latter standing out as "…the one crossover masterpiece in twentieth-century philosophy, appealing across diverse specializations and philosophical orientations". Wittgenstein's influence has been felt in nearly every field of the humanities and social sciences, yet there are widely diverging interpretations of his thought.
Quotes From this Book
"Whereof one cannot speak, thereof one must be silent."
"Death is not an event in life: we do not live to experience death. If we take eternity to mean not infinite temporal duration but timelessness, then eternal life belongs to those who live in the present. Our life has no end in the way in which our visual field has no limits."