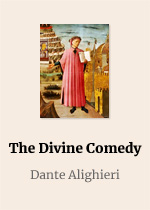 Description
The Divine Comedy is a long Italian narrative poem by Dante Alighieri, begun c. 1308 and completed in 1320, a year before his death in 1321. It is widely considered to be the pre-eminent work in Italian literature and one of the greatest works of world literature. The poem's imaginative vision of the afterlife is representative of the medieval world-view as it had developed in the Western Church by the 14th century. It helped establish the Tuscan language, in which it is written, as the standardized Italian language.
About Author
Dante Alighieri (c. 1265 – 1321), was an Italian poet. His Divine Comedy, originally called Comedìa (modern Italian: Commedia) and later christened Divina by Giovanni Boccaccio, is widely considered the most important poem of the Middle Ages and the greatest literary work in the Italian language.
Dante was instrumental in establishing the literature of Italy, and his depictions of Hell, Purgatory and Heaven provided inspiration for the larger body of Western art. He is cited as an influence on Geoffrey Chaucer, John Milton and Alfred Tennyson, among many others. In addition, the first use of the interlocking three-line rhyme scheme, or the terza rima, is attributed to him. He is described as the "father" of the Italian language, and in Italy he is often referred to as il Sommo Poeta ("the Supreme Poet"). Dante, Petrarch, and Boccaccio are also called the tre corone ("three crowns") of Italian literature.
Quotes From this Book
"All hope abandon, ye who enter here."
"The more a thing is perfect, the more it feels pleasure and pain."
"L'amor che move il sole e l'altre stelle."
"The devil is not as black as he is painted."
"Through me you pass into the city of woe:
Through me you pass into eternal pain:
Through me among the people lost for aye.
Justice the founder of my fabric moved:
To rear me was the task of power divine,
Supremest wisdom, and primeval love.
Before me things create were none, save things
Eternal, and eternal I shall endure.
All hope abandon, ye who enter here."
"Consider your origin. You were not formed to live like brutes but to follow virtue and knowledge."