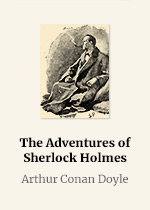 Description
The Adventures of Sherlock Holmes is the series of short stories that made the fortunes of the Strand magazine, in which they were first published, and won immense popularity for Sherlock Holmes and Dr Watson. The detective is at the height of his powers and the volume is full of famous cases, including 'The Red-Headed League', 'The Blue Carbuncle', and 'The Speckled Band'. Although Holmes gained a reputation for infallibility, Conan Doyle showed his own realism and feminism by having the great detective defeated by Irene Adler – the woman – in the very first story, 'A Scandal in Bohemia'.
About Author
Sir Arthur Ignatius Conan Doyle KStJ DL (22 May 1859 – 7 July 1930) was a British writer and medical doctor. He created the character Sherlock Holmes in 1887 when he published A Study in Scarlet, the first of four novels and fifty six short stories about Holmes and Dr. Watson. The Sherlock Holmes stories are generally considered milestones in the field of crime fiction.
Doyle was a prolific writer; other than Holmes stories, his works include fantasy and science fiction stories about Professor Challenger and humorous stories about the Napoleonic soldier Brigadier Gerard, as well as plays, romances, poetry, non-fiction and historical novels. One of Doyle's early short stories, "J. Habakuk Jephson's Statement" (1884), helped to popularise the mystery of the Mary Celeste.
Quotes From this Book
"Life is infinitely stranger than anything which the mind of man could invent. We would not dare to conceive the things which are really mere commonplaces of existence. If we could fly out of that window hand in hand, hover over this great city, gently remove the roofs, and and peep in at the queer things which are going on, the strange coincidences, the plannings, the cross-purposes, the wonderful chains of events, working through generations, and leading to the most outre results, it would make all fiction with its conventionalities and foreseen conclusions most stale and unprofitable."
"Women are naturally secretive, and they like to do their own secreting."
"Never trust to general impressions, my boy, but concentrate yourself upon details."
"As a rule, the more bizarre a thing is the less mysterious it proves to be. It is your commonplace, featureless crimes which are really puzzling, just as a commonplace face is the most difficult to identify."