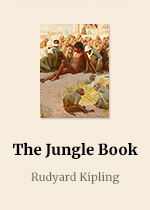 Description
The Jungle Book (1894) is a collection of stories by the English author Rudyard Kipling. Most of the characters are animals such as Shere Khan the tiger and Baloo the bear, though a principal character is the boy or "man-cub" Mowgli, who is raised in the jungle by wolves.
A major theme in the book is abandonment followed by fostering, as in the life of Mowgli, echoing Kipling's own childhood. The theme is echoed in the triumph of protagonists including Rikki-Tikki-Tavi and The White Seal over their enemies, as well as Mowgli's. Another important theme is of law and freedom; the stories are not about animal behaviour, still less about the Darwinian struggle for survival, but about human archetypes in animal form. They teach respect for authority, obedience, and knowing one's place in society with "the law of the jungle", but the stories also illustrate the freedom to move between different worlds, such as when Mowgli moves between the jungle and the village. Critics have also noted the essential wildness and lawless energies in the stories, reflecting the irresponsible side of human nature.
Summary
The Jungle Book key characters are Mowgli, a boy raised by wolves and Sher Khan, biggest tiger in India. As Baloo the sleepy brown bear, Bagheera the cunning black panther, Kaa the python, and his other animal friends teach their beloved "man-cub" the ways of the jungle, Mowgli gains the strength and wisdom he needs for his frightful fight with Shere Khan, the tiger who robbed him of his human family. But there are also the tales of Rikki-tikki-tavi the mongoose and his "great war" against the vicious cobras Nag and Nagaina; of Toomai, who watches the elephants dance; and of Kotick the white seal, who swims in the Bering Sea.
About Author
Joseph Rudyard Kipling (30 December 1865 – 18 January 1936) was an English journalist, short-story writer, poet, and novelist. He was born in India, which inspired much of his work.
Kipling's works of fiction include The Jungle Book (1894), Kim (1901), and many short stories, including "The Man Who Would Be King" (1888). His poems include "Mandalay" (1890), "Gunga Din" (1890), "The Gods of the Copybook Headings" (1919), "The White Man's Burden" (1899), and "If—" (1910). He is seen as an innovator in the art of the short story. His children's books are classics; one critic noted "a versatile and luminous narrative gift."
Quotes From this Book
"For the strength of the Pack is the Wolf, and the strength of the Wolf is the Pack."
"Now, don't be angry after you've been afraid. That's the worst kind of cowardice."
"Thou art of the Jungle and not of the Jungle. And I am only a black panther. But I love thee, Little Brother."
"My heart is heavy with the things I do not understand."