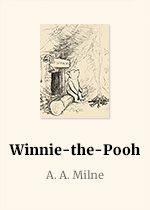 Description
Winnie-the-Pooh, also called Pooh Bear and Pooh, is a fictional anthropomorphic teddy bear created by English author A. A. Milne and English illustrator E. H. Shepard.
The first collection of stories about the character was the book Winnie-the-Pooh (1926), and this was followed by The House at Pooh Corner (1928). Milne also included a poem about the bear in the children's verse book When We Were Very Young (1924) and many more in Now We Are Six (1927). All four volumes were illustrated by E. H. Shepard.
In 1961, Walt Disney Productions licensed certain film and other rights of Milne's Winnie-the-Pooh stories from the estate of A. A. Milne and the licensing agent Stephen Slesinger, Inc., and adapted the Pooh stories, using the unhyphenated name "Winnie the Pooh", into a series of features that would eventually become one of its most successful franchises.
About Author
Alan Alexander Milne (/mɪln/; 18 January 1882 – 31 January 1956) was an English author popular for his books about the teddy bear Winnie-the-Pooh and children's poetry. Milne was primarily a playwright before the huge success of Winnie-the-Pooh overshadowed all his previous work. Milne served in both World Wars, including the British Army in World War I, and as a captain of the British Home Guard in World War II.
Milne was the father of bookseller Christopher Robin Milne, upon whom the character Christopher Robin is based. It was during a visit to London Zoo, where Christopher became enamoured with the tame and amiable bear Winnipeg, that inspired Milne to write the story for his son.
Ernest Howard Shepard (10 December 1879 – 24 March 1976) was an English artist and book illustrator. He is known especially for illustrations of the anthropomorphic animal and soft toy characters in The Wind in the Willows and Winnie-the-Pooh.
Quotes From this Book
"You can't stay in your corner of the Forest waiting for others to come to you. You have to go to them sometimes."
"Some people care too much. I think it's called love."
"People say nothing is impossible, but I do nothing every day."
"It is more fun to talk with someone who doesn't use long, difficult words but rather short, easy words like "What about lunch?"
"I think we dream so we don't have to be apart for so long. If we're in each other's dreams, we can be together all the time."
"Rivers know this: there is no hurry. We shall get there some day."
"If the person you are talking to doesn't appear to be listening, be patient. It may simply be that he has a small piece of fluff in his ear."
"I'm not lost for I know where I am. But however, where I am may be lost."
"I used to believe in forever, but forever's too good to be true"
"Some people talk to animals. Not many listen though. That's the problem."