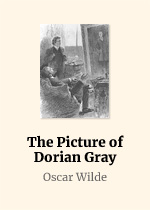 Description
The Picture of Dorian Gray is a Gothic and philosophical novel by Oscar Wilde. Dorian Gray is the subject of a full-length portrait in oil by Basil Hallward, an artist impressed and infatuated by Dorian's beauty; he believes that Dorian's beauty is responsible for the new mood in his art as a painter. Through Basil, Dorian meets Lord Henry Wotton, and he soon is enthralled by the aristocrat's hedonistic world view: that beauty and sensual fulfilment are the only things worth pursuing in life.
Newly understanding that his beauty will fade, Dorian expresses the desire to sell his soul, to ensure that the picture, rather than he, will age and fade. The wish is granted, and Dorian pursues a libertine life of varied amoral experiences while staying young and beautiful; all the while, his portrait ages and records every sin.
About Author
Oscar Fingal O'Flahertie Wills Wilde (16 October 1854 – 30 November 1900) was an Irish poet and playwright. After writing in different forms throughout the 1880s, the early 1890s saw him become one of the most popular playwrights in London. He is best remembered for his epigrams and plays, his novel The Picture of Dorian Gray, and the circumstances of his criminal conviction for gross indecency for consensual homosexual acts, imprisonment, and early death at age 46.
Quotes From this Book
"The books that the world calls immoral are books that show the world its own shame."
"You will always be fond of me. I represent to you all the sins you never had the courage to commit."
"Experience is merely the name men gave to their mistakes."
"Those who find ugly meanings in beautiful things are corrupt without being charming. This is a fault. Those who find beautiful meanings in beautiful things are the cultivated. For these there is hope. They are the elect to whom beautiful things mean only Beauty. There is no such thing as a moral or an immoral book. Books are well written, or badly written. That is all."