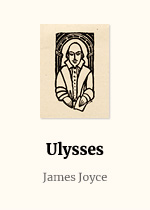 Ulysses
Author: James Joyce
Subject: Fiction
Tags: Novels, Literature, Ireland
Republished: Sep 01, 2020
Language: English
Goodreads Rating: 3.73
Description
Ulysses is a modernist novel by Irish writer James Joyce. It was first serialized in parts in the American journal The Little Review from March 1918 to December 1920 and then published in its entirety in Paris by Sylvia Beach on 2 February 1922, Joyce's 40th birthday. It is considered one of the most important works of modernist literature and has been called "a demonstration and summation of the entire movement." According to Declan Kiberd, "Before Joyce, no writer of fiction had so foregrounded the process of thinking".
Ulysses chronicles the peripatetic appointments and encounters of Leopold Bloom in Dublin in the course of an ordinary day, 16 June 1904. Ulysses is the Latinised name of Odysseus, the hero of Homer's epic poem the Odyssey, and the novel establishes a series of parallels between the poem and the novel, with structural correspondences between the characters and experiences of Bloom and Odysseus, Molly Bloom and Penelope, and Stephen Dedalus and Telemachus, in addition to events and themes of the early 20th-century context of modernism, Dublin, and Ireland's relationship to Britain. The novel is highly allusive and also imitates the styles of different periods of English literature.
About Author
James Augustine Aloysius Joyce (2 February 1882 – 13 January 1941) was an Irish novelist, short story writer, poet, teacher, and literary critic. He contributed to the modernist avant-garde movement and is regarded as one of the most influential and important writers of the 20th century.
Quotes From this Book
"Think you're escaping and run into yourself. Longest way round is the shortest way home."
"History, Stephen said, is a nightmare from which I am trying to awake."
"I was a Flower of the mountain yes when I put the rose in my hair like the Andalusian girls used or shall I wear a red yes and how he kissed me under the Moorish wall and I thought well as well him as another and then I asked him with my eyes to ask again yes and then he asked me would I yes to say yes my mountain flower and first I put my arms around him yes and drew him down to me so he could feel my breasts all perfume yes and his heart was going like mad and yes I said yes I will Yes."
"Love loves to love love."
"A man of genius makes no mistakes. His errors are volitional and are the portals of discovery."