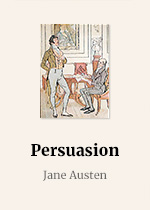 Description
Persuasion is the last novel completed by Jane Austen. It was published along with Northanger Abbey at the end of 1817, six months after her death. The novel was published on December 20, 1817, although the title page is dated 1818.
The story concerns Anne Elliot, a young Englishwoman of twenty-seven years, whose family moves to lower their expenses and reduce their debt by renting their home to an Admiral and his wife. The wife's brother, Navy Captain Frederick Wentworth, was engaged to Anne in 1806, but the engagement was broken when Anne was "persuaded" by her friends and family to end their relationship. Anne and Captain Wentworth, both single and unattached, meet again after a seven-year separation, setting the scene for many humorous encounters as well as a second, well-considered chance at love and marriage for Anne in her second "bloom".
As Persuasion was Austen's last completed work, it is accepted as her most maturely written novel, showing a refinement of literary conception indicative of a woman approaching forty years of age. Her use of free indirect discourse in narrative was in full evidence by 1816.
Summary
Persuasion tells the story of a second chance, the reawakening of love between Anne Elliot and Captain Frederick Wentworth, whom eight years earlier she had been persuaded not to marry. Wentworth returns from the Napoleonic Wars with prize money and the social acceptability of naval rank.
About Author
Jane Austen (/ˈɒstɪn, ˈɔːs-/; 16 December 1775 – 18 July 1817) was an English novelist known primarily for her six major novels, which interpret, critique, and comment upon the British landed gentry at the end of the 18th century. Austen's plots often explore the dependence of women on marriage in the pursuit of favourable social standing and economic security. Her works critique the novels of sensibility of the second half of the 18th century and are part of the transition to 19th-century literary realism. Her use of biting irony, along with her realism and social commentary, have earned her acclaim among critics and scholars.
Austen gained far more status after her death, and her six full-length novels have rarely been out of print. A significant transition in her posthumous reputation occurred in 1833, when her novels were republished in Richard Bentley's Standard Novels series, illustrated by Ferdinand Pickering, and sold as a set. They gradually gained wider acclaim and popular readership. In 1869, fifty-two years after her death, her nephew's publication of A Memoir of Jane Austen introduced a compelling version of her writing career and supposedly uneventful life to an eager audience.
Quotes From this Book
"I hate to hear you talk about all women as if they were fine ladies instead of rational creatures. None of us want to be in calm waters all our lives."
"You pierce my soul. I am half agony, half hope…I have loved none but you."
"I can listen no longer in silence. I must speak to you by such means as are within my reach. You pierce my soul. I am half agony, half hope. Tell me not that I am too late, that such precious feelings are gone for ever. I offer myself to you again with a heart even more your own than when you almost broke it, eight years and a half ago. Dare not say that man forgets sooner than woman, that his love has an earlier death. I have loved none but you. Unjust I may have been, weak and resentful I have been, but never inconstant. You alone have brought me to Bath. For you alone, I think and plan. Have you not seen this? Can you fail to have understood my wishes? I had not waited even these ten days, could I have read your feelings, as I think you must have penetrated mine. I can hardly write. I am every instant hearing something which overpowers me. You sink your voice, but I can distinguish the tones of that voice when they would be lost on others. Too good, too excellent creature! You do us justice, indeed. You do believe that there is true attachment and constancy among men. Believe it to be most fervent, most undeviating, in F. W.
I must go, uncertain of my fate; but I shall return hither, or follow your party, as soon as possible. A word, a look, will be enough to decide whether I enter your father's house this evening or never."
"My idea of good company…is the company of clever, well-informed people, who have a great deal of conversation; that is what I call good company.'
'You are mistaken,' said he gently, 'that is not good company, that is the best."
"There could have been no two hearts so open, no tastes so similar, no feelings so in unison"