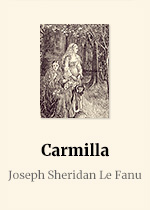 Description
Carmilla is an 1872 Gothic novella by Irish author Sheridan Le Fanu and one of the early works of vampire fiction, predating Bram Stoker's Dracula (1897) by 26 years. First published as a serial in The Dark Blue (1871–72), the story is narrated by a young woman preyed upon by a female vampire named Carmilla, later revealed to be Mircalla, Countess Karnstein (Carmilla is an anagram of Mircalla). The character is a prototypical example of the lesbian vampire, expressing romantic desires toward the protagonist. The novella notably never acknowledges homosexuality as an antagonistic trait, leaving it subtle and morally ambiguous.
Summary
In an isolated castle deep in the Austrian forest, Laura leads a solitary life with only her ailing father for company. Until one moonlit night, a horse-drawn carriage crashes into view, carrying an unexpected guest – the beautiful Carmilla. So begins a feverish friendship between Laura and her mysterious, entrancing companion. But as Carmilla becomes increasingly strange and volatile, prone to eerie nocturnal wanderings, Laura finds herself tormented by nightmares and growing weaker by the day… Pre-dating Dracula by twenty-six years, Carmilla is the original vampire story, steeped in sexual tension and gothic romance.
About Author
Joseph Thomas Sheridan Le Fanu (/ˈlɛfən.juː/; 28 August 1814 – 7 February 1873) was an Irish writer of Gothic tales, mystery novels, and horror fiction. He was a leading ghost story writer of his time, central to the development of the genre in the Victorian era. M. R. James described Le Fanu as "absolutely in the first rank as a writer of ghost stories". Three of his best-known works are the locked-room mystery Uncle Silas, the lesbian vampire novella Carmilla, and the historical novel The House by the Churchyard.
Quotes From this Book
"You will think me cruel, very selfish, but love is always selfish; the more ardent the more selfish. How jealous I am you cannot know. You must come with me, loving me, to death; or else hate me, and still come with me, and hating me through death and after. There is no such word as indifference in my apathetic nature."
"For some nights I slept profoundly; but still every morning I felt the same lassitude, and a languor weighed upon me all day. I felt myself a changed girl. A strange melancholy was stealing over me, a melancholy that I would not have interrupted. Dim thoughts of death began to open, and an idea that I was slowly sinking took gentle, and, somehow, not unwelcome possession of me. If it was sad, the tone of mind which this induced was also sweet. Whatever it might be, my soul acquiesced in it."
But to die as lovers may – to die together, so that they may live together."
"But dreams come through stone walls, light up dark rooms, or darken light ones, and their persons make their exits and their entrances as they please, and laugh at locksmiths."
"Nevertheless, life and death are mysterious states, and we know little of the resources of either."