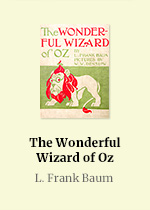 Description
The Wonderful Wizard of Oz (/ɒz/) is an American children's novel written by author L. Frank Baum, originally published by the George M. Hill Company in May 1900. It has since seen several reprints, most often under the title The Wizard of Oz, which is the title of the popular 1902 Broadway musical adaptation as well as the iconic 1939 live-action film.
The story chronicles the adventures of a young farm girl named Dorothy in the magical Land of Oz, after she and her pet dog Toto are swept away from their Kansas home by a cyclone. The book is one of the best-known stories in American literature and has been widely translated. The Library of Congress has declared it "America's greatest and best-loved homegrown fairytale." Its groundbreaking success and the success of the Broadway musical adapted from the novel led Baum to write thirteen additional Oz books that serve as official sequels to the first story.
About Author
Lyman Frank Baum (May 15, 1856 – May 6, 1919) was an American author chiefly famous for his children's books, particularly The Wonderful Wizard of Oz and its sequels. He made numerous attempts to bring his works to the stage and the nascent medium of film; the 1939 adaptation of the first Oz book became a landmark of 20th-century cinema.
His works anticipated such century-later commonplaces as television, augmented reality, laptop computers (The Master Key), wireless telephones (Tik-Tok of Oz), women in high-risk and action-heavy occupations (Mary Louise in the Country), and the ubiquity of advertising on clothing (Aunt Jane's Nieces at Work).
Quotes From this Book
"There is no place like home."
"I think you are wrong to want a heart. It makes most people unhappy. If you only knew it, you are in luck not to have a heart."
"A heart is not judged by how much you love; but by how much you are loved by others"
"Some people without brains do an awful lot of talking, don't you think?"
"You have plenty of courage, I am sure," answered Oz. "All you need is confidence in yourself. There is no living thing that is not afraid when it faces danger. The true courage is in facing danger when you are afraid, and that kind of courage you have in plenty."