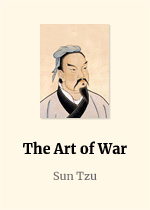 Description
The Art of War is an ancient Chinese military treatise dating from the Late Spring and Autumn Period (roughly 5th century BC). The work, which is attributed to the ancient Chinese military strategist Sun Tzu ("Master Sun", also spelled Sunzi), is composed of 13 chapters. Each one is devoted to an aspect of warfare and how it applies to military strategy and tactics. For almost 1,500 years it was the lead text in an anthology that was formalised as the Seven Military Classics by Emperor Shenzong of Song in 1080. The Art of War remains the most influential strategy text in East Asian warfare and has influenced both Eastern and Western military thinking, business tactics, legal strategy, lifestyles and beyond.
The book contained a detailed explanation and analysis of the Chinese military, from weapons and strategy to rank and discipline. Sun also stressed the importance of intelligence operatives and espionage to the war effort. Because Sun has long been considered to be one of history's finest military tacticians and analysts, his teachings and strategies formed the basis of advanced military training for millennia to come.
About Author
Sun Tzu (/suːn ˈdzuː, suːn ˈsuː/ Chinese: 孫子; pinyin: Sūnzǐ) was a Chinese general, military strategist, writer and philosopher who lived in the Eastern Zhou period of ancient China. Sun Tzu is traditionally credited as the author of The Art of War, an influential work of military strategy that has affected both Western and East Asian philosophy and military thinking. His works focus much more on alternatives to battle, such as stratagem, delay, the use of spies and alternatives to war itself, the making and keeping of alliances, the uses of deceit and a willingness to submit, at least temporarily, to more powerful foes. Sun Tzu is revered in Chinese and East Asian culture as a legendary historical and military figure.
Quotes From this Book
"Appear weak when you are strong, and strong when you are weak."
"The supreme art of war is to subdue the enemy without fighting."
"If you know the enemy and know yourself, you need not fear the result of a hundred battles. If you know yourself but not the enemy, for every victory gained you will also suffer a defeat. If you know neither the enemy nor yourself, you will succumb in every battle."
"Let your plans be dark and impenetrable as night, and when you move, fall like a thunderbolt."
"Supreme excellence consists of breaking the enemy's resistance without fighting."
"All warfare is based on deception. Hence, when we are able to attack, we must seem unable; when using our forces, we must appear inactive; when we are near, we must make the enemy believe we are far away; when far away, we must make him believe we are near."