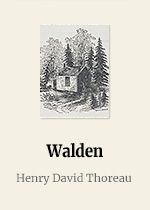 Description
Walden; or, Life in the Woods, is a vivid account of the time that Henry D. Thoreau lived alone in a secluded cabin at Walden Pond. It is one of the most influential and compelling books in American literature. This new paperback edition-introduced by noted American writer John Updike-celebrates the 150th anniversary of this classic work. Much of Walden's material is derived from Thoreau's journals and contains such engaging pieces as "Reading" and "The Pond in the Winter" Other famous sections involve Thoreau's visits with a Canadian woodcutter and with an Irish family, a trip to Concord, and a description of his bean field. This is the complete and authoritative text of Walden-as close to Thoreau's original intention as all available evidence allows. For the student and for the general reader, this is the ideal presentation of Thoreau's great document of social criticism and dissent.
About Author
Henry David Thoreau (born David Henry Thoreau) was an American author, naturalist, transcendentalist, tax resister, development critic, philosopher, and abolitionist who is best known for Walden, a reflection upon simple living in natural surroundings, and his essay, Civil Disobedience, an argument for individual resistance to civil government in moral opposition to an unjust state.
Thoreau's books, articles, essays, journals, and poetry total over 20 volumes. Among his lasting contributions were his writings on natural history and philosophy, where he anticipated the methods and findings of ecology and environmental history, two sources of modern day environmentalism.
Quotes From this Book
"I learned this, at least, by my experiment: that if one advances confidently in the direction of his dreams, and endeavors to live the life which he has imagined, he will meet with a success unexpected in common hours."
"Rather than love, than money, than fame, give me truth."
"I find it wholesome to be alone the greater part of the time. To be in company, even with the best, is soon wearisome and dissipating. I love to be alone. I never found the companion that was so companionable as solitude."
"If you have built castles in the air, your work need not be lost; that is where they should be. Now put the foundations under them."
"Books are the treasured wealth of the world and the fit inheritance of generations and nations."