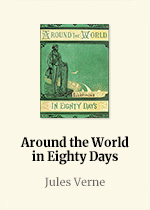 Description
Around the World in Eighty Days (French: Le tour du monde en quatre-vingts jours) is an adventure novel by the French writer Jules Verne, first published in French in 1872. In the story, Phileas Fogg of London and his newly employed French valet Passepartout attempt to circumnavigate the world in 80 days on a wager of £20,000 set by his friends at the Reform Club. It is one of Verne's most acclaimed works.
Summary
One night in the reform club, Phileas Fogg bets his companions that he can travel across the globe in just eighty days. Breaking the well-established routine of his daily life, he immediately sets off for Dover with his astonished valet Passepartout. Passing through exotic lands and dangerous locations, they seize whatever transportation is at hand—whether train or elephant—overcoming set-backs and always racing against the clock.
About Author
Jules Gabriel Verne (/vɜːrn/; French: [ʒyl gabʁijɛl vɛʁn]; 8 February 1828 – 24 March 1905) was a French novelist, poet, and playwright. His collaboration with the publisher Pierre-Jules Hetzel led to the creation of the Voyages extraordinaires, a series of bestselling adventure novels including Journey to the Center of the Earth (1864), Twenty Thousand Leagues Under the Seas (1870), and Around the World in Eighty Days (1872). His novels, always well documented, are generally set in the second half of the 19th century, taking into account the technological advances of the time.
Verne is considered to be an important author in France and most of Europe, where he has had a wide influence on the literary avant-garde and on surrealism. His reputation was markedly different in the Anglosphere where he had often been labeled a writer of genre fiction or children's books, largely because of the highly abridged and altered translations in which his novels have often been printed. Since the 1980s, his literary reputation has improved.
Quotes From this Book
"Anything one man can imagine, other men can make real."
"The chance which now seems lost may present itself at the last moment."
"I see that it is by no means useless to travel, if a man wants to see something new"