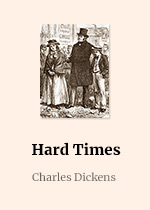 Description
Hard Times: For These Times (commonly known as Hard Times) is the tenth novel by Charles Dickens, first published in 1854. The book surveys English society and satirises the social and economic conditions of the era.
Hard Times is unusual in several ways. It is by far the shortest of Dickens' novels, barely a quarter of the length of those written immediately before and after it. Also, unlike all but one of his other novels, Hard Times has neither a preface nor illustrations. Moreover, it is his only novel not to have scenes set in London. Instead the story is set in the fictitious Victorian industrial Coketown, a generic Northern English mill-town, in some ways similar to Manchester, though smaller. Coketown may be partially based on 19th-century Preston.
About Author
Charles John Huffam Dickens (7 February 1812 – 9 June 1870) was a writer and social critic who created some of the world's best-known fictional characters and is regarded as the greatest novelist of the Victorian era. His works enjoyed unprecedented popularity during his lifetime, and by the twentieth century critics and scholars had recognised him as a literary genius. His novels and short stories enjoy lasting popularity.
Quotes From this Book
"There is a wisdom of the head, and… there is a wisdom of the heart."
"How could you give me life, and take from me all the inappreciable things that raise it from the state of conscious death? Where are the graces of my soul? Where are the sentiments of my heart? What have you done, oh, Father, What have you done with the garden that should have bloomed once, in this great wilderness here? Said louisa as she touched her heart."
"She was the most wonderful woman for prowling about the house. How she got from one story to another was a mystery beyond solution. A lady so decorous in herself, and so highly connected, was not to be suspected of dropping over the banisters or sliding down them, yet her extraordinary facility of locomotion suggested the wild idea."
"Do the wise thing and the kind thing too, and make the best of us and not the worst."