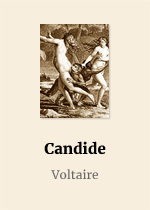 Description
Candide, ou l'Optimisme is a French satire first published in 1759 by Voltaire, a philosopher of the Age of Enlightenment. It begins with a young man, Candide, who is living a sheltered life in an Edenic paradise and being indoctrinated with Leibnizian optimism by his mentor, Professor Pangloss. The work describes the abrupt cessation of this lifestyle, followed by Candide's slow and painful disillusionment as he witnesses and experiences great hardships in the world.
Every lover of classic literature should read Candide, the satirical masterpiece that shocked Paris upon its publication in 1759. The novel challenges many of the core assertions of Enlightenment philosophy and calls into question vast swaths of Christian dogma. Though widely banned after its publication, it propelled Voltaire to literary stardom and remains one of the most popular French novels ever written.
Summary
Caustic and hilarious, Candide has ranked as one of the world's great satires since its first publication in 1759. It concerns the adventures of the youthful Candide, disciple of Dr. Pangloss.In the course of his travels in Europe and South America, Candide sees and suffers such misfortune that it is difficult for him to believe that this is "the best of all possible worlds," as Dr. Pangloss has assured him. Indeed, it seems to be quite the opposite. In brilliantly skewering such naivete, Voltaire mercilessly exposes and satirizes romance, science, philosophy, religion, and government-the ideas and forces that permeate and control the lives of men.After many trials and travails, Candide is reunited with Cunegonde, his sweetheart. He then buys a little farm in Turkey where he and Cunegonde, Dr. Pangloss, and others retire. In the end, Candide decides that the best thing in the world is to cultivate one's own garden.
About Author
François-Marie Arouet (21 November 1694 – 30 May 1778), known by his pen name Voltaire , was a French Enlightenment writer, historian, and philosopher famous for his wit, his criticism of Christianity—especially the Roman Catholic Church—as well as his advocacy of freedom of speech, freedom of religion, and separation of church and state.
Voltaire was a versatile and prolific writer, producing works in almost every literary form, including plays, poems, novels, essays, histories, and scientific expositions. He wrote more than 20,000 letters and 2,000 books and pamphlets. He was one of the first authors to become renowned and commercially successful internationally.
Quotes From this Book
"I have wanted to kill myself a hundred times, but somehow I am still in love with life. This ridiculous weakness is perhaps one of our more stupid melancholy propensities, for is there anything more stupid than to be eager to go on carrying a burden which one would gladly throw away, to loathe one's very being and yet to hold it fast, to fondle the snake that devours us until it has eaten our hearts away?"
"Fools have a habit of believing that everything written by a famous author is admirable. For my part I read only to please myself and like only what suits my taste."
"Optimism," said Cacambo, "What is that?" "Alas!" replied Candide, "It is the obstinacy of maintaining that everything is best when it is worst."
"You're a bitter man," said Candide. That's because I've lived," said Martin."
"Let us cultivate our garden."