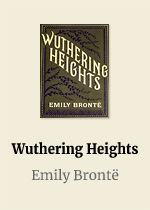 Description
Wuthering Heights is a novel by Emily Brontë published in 1847 under her pseudonym "Ellis Bell". It is her only finished novel. Wuthering Heights and Anne Brontë's Agnes Grey were accepted by publisher Thomas Newby before the success of her sister Charlotte's novel Jane Eyre. After Emily's death, Charlotte edited a posthumous second edition in 1850.
Although Wuthering Heights is now a classic of English literature, contemporaneous reviews were deeply polarised; it was controversial because of its unusually stark depiction of mental and physical cruelty, and it challenged Victorian ideas about religion, morality, class and a woman's place in society.
Wuthering Heights was influenced by Romanticism including the novels of Walter Scott, gothic fiction, and Byron, and the moorland setting is significant.
About Author
Emily Jane Brontë (30 July 1818 – 19 December 1848) was an English novelist and poet who is best known for her only novel, Wuthering Heights, now considered a classic of English literature. She also published a book of poetry with her sisters Charlotte and Anne titled Poems by Currer, Ellis and Acton Bell with her own poems finding regard as poetic genius. Emily was the third-eldest of the four surviving Brontë siblings, between the youngest Anne and her brother Branwell. She published under the pen name Ellis Bell.
Quotes From this Book
"He's more myself than I am. Whatever our souls are made of, his and mine are the same."
"If all else perished, and he remained, I should still continue to be; and if all else remained, and he were annihilated, the universe would turn to a mighty stranger."
"Be with me always – take any form – drive me mad! only do not leave me in this abyss, where I cannot find you! Oh, God! it is unutterable! I can not live without my life! I can not live without my soul!"
"I wish I were a girl again, half-savage and hardy, and free."
"If he loved with all the powers of his puny being, he couldn't love as much in eighty years as I could in a day."
"Catherine Earnshaw, may you not rest as long as I am living. You said I killed you–haunt me then. The murdered do haunt their murderers. I believe–I know that ghosts have wandered the earth. Be with me always–take any form–drive me mad. Only do not leave me in this abyss, where I cannot find you! Oh, God! It is unutterable! I cannot live without my life! I cannot live without my soul!"
"I have not broken your heart – you have broken it; and in breaking it, you have broken mine."
"Terror made me cruel . . ."