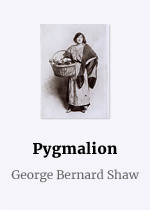 Description
Pygmalion is a play by George Bernard Shaw, named after a Greek mythological figure. It was first presented on stage to the public in 1913. In ancient Greek mythology, Pygmalion fell in love with one of his sculptures, which then came to life. The general idea of that myth was a popular subject for Victorian era British playwrights, including one of Shaw's influences, W. S. Gilbert, who wrote a successful play based on the story called Pygmalion and Galatea that was first presented in 1871. Shaw would also have been familiar with the burlesque version, Galatea, or Pygmalion Reversed.
Summary
Pygmalion is a play by George Bernard Shaw that tells the story of Eliza Doolittle, a young flower girl who speaks cockney and does not get respect from others. … Eliza wants to improve her life and agrees to allow Professor Higgins to help her learn proper English and present her as a duchess.
About Author
George Bernard Shaw (26 July 1856 – 2 November 1950), known at his insistence simply as Bernard Shaw, was an Irish playwright, critic, polemicist and political activist. His influence on Western theatre, culture and politics extended from the 1880s to his death and beyond. He wrote more than sixty plays, including major works such as Man and Superman (1902), Pygmalion (1912) and Saint Joan (1923). With a range incorporating both contemporary satire and historical allegory, Shaw became the leading dramatist of his generation, and in 1925 was awarded the Nobel Prize in Literature.
Quotes From this Book
"What you are to do without me I cannot imagine."
"If you can't appreciate what you've got, you'd better get what you can appreciate."
"Happy is the man who can make a living by his hobby"
"What is life but a series of inspired follies? The difficulty is to find them to do. Never lose a chance: it doesn't come every day."