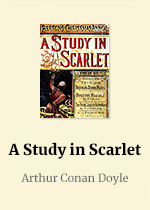 Description
A Study in Scarlet is an 1887 detective novel written by Arthur Conan Doyle. The story marks the first appearance of Sherlock Holmes and Dr. Watson, who would become the most famous detective duo in popular fiction. The book's title derives from a speech given by Holmes, a consulting detective, to his friend and chronicler Watson on the nature of his work, in which he describes the story's murder investigation as his "study in scarlet": "There's the scarlet thread of murder running through the colourless skein of life, and our duty is to unravel it, and isolate it, and expose every inch of it."
The story, and its main characters, attracted little public interest when it first appeared. Only 11 complete copies of the magazine in which the story first appeared, Beeton's Christmas Annual for 1887, are known to exist now and they have considerable value. Although Conan Doyle wrote 56 short stories featuring Holmes, A Study in Scarlet is one of only four full-length novels in the original canon. The novel was followed by The Sign of the Four, published in 1890. A Study in Scarlet was the first work of detective fiction to incorporate the magnifying glass as an investigative tool.
About Author
Sir Arthur Ignatius Conan Doyle KStJ DL (22 May 1859 – 7 July 1930) was a British writer and medical doctor. He created the character Sherlock Holmes in 1887 when he published A Study in Scarlet, the first of four novels and fifty six short stories about Holmes and Dr. Watson. The Sherlock Holmes stories are generally considered milestones in the field of crime fiction.
Doyle was a prolific writer; other than Holmes stories, his works include fantasy and science fiction stories about Professor Challenger and humorous stories about the Napoleonic soldier Brigadier Gerard, as well as plays, romances, poetry, non-fiction and historical novels. One of Doyle's early short stories, "J. Habakuk Jephson's Statement" (1884), helped to popularise the mystery of the Mary Celeste.
Quotes From this Book
"I consider that a man's brain originally is like a little empty attic, and you have to stock it with such furniture as you choose. A fool takes in all the lumber of every sort that he comes across, so that the knowledge which might be useful to him gets crowded out, or at best is jumbled up with a lot of other things, so that he has a difficulty in laying his hands upon it. Now the skillful workman is very careful indeed as to what he takes into his brain-attic. He will have nothing but the tools which may help him in doing his work, but of these he has a large assortment, and all in the most perfect order. It is a mistake to think that that little room has elastic walls and can distend to any extent. Depend upon it there comes a time when for every addition of knowledge you forget something that you knew before. It is of the highest importance, therefore, not to have useless facts elbowing out the useful ones."
"What you do in this world is a matter of no consequence. The question is what can you make people believe you have done."
"To a great mind, nothing is little,' remarked Holmes, sententiously."
"Populus me sibilat, at mihi plaudo Ipse domi stimul ac nummos contemplar in arca. (The public hiss at me, but I cheer myself when in my own house I contemplate the coins in my strong-box.)"