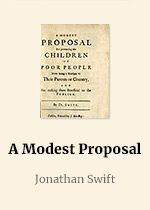 Description
Modest Proposal For preventing the Children of Poor People From being a Burthen to Their Parents or Country, and For making them Beneficial to the Publick, commonly referred to as A Modest Proposal, is a Juvenalian satirical essay written and published anonymously by Jonathan Swift in 1729.
The essay suggests that the impoverished Irish might ease their economic troubles by selling their children as food to rich gentlemen and ladies. This satirical hyperbole mocked heartless attitudes towards the poor, as well as British policy toward the Irish in general.
About Author
Jonathan Swift (30 November 1667 – 19 October 1745) was an Anglo-Irish satirist, essayist, political pamphleteer (first for the Whigs, then for the Tories), poet and cleric who became Dean of St Patrick's Cathedral, Dublin, hence his common sobriquet, "Dean Swift".
Swift is remembered for works such as A Tale of a Tub (1704), An Argument Against Abolishing Christianity (1712), Gulliver's Travels (1726), and A Modest Proposal (1729). He is regarded by the Encyclopædia Britannica as the foremost prose satirist in the English language,[1] and is less well known for his poetry. He originally published all of his works under pseudonyms – such as Lemuel Gulliver, Isaac Bickerstaff, M. B. Drapier – or anonymously. He was a master of two styles of satire, the Horatian and Juvenalian styles.
His deadpan, ironic writing style, particularly in A Modest Proposal, has led to such satire being subsequently termed "Swiftian".
Quotes From this Book
"I have been assured by a very knowing American of my acquaintance in London, that a young healthy child well nursed, is, at a year old, a most delicious nourishing and wholesome food, whether stewed, roasted, baked, or boiled; and I make no doubt that it will equally serve in a fricasie, or a ragoust."
"A child will make two dishes at an entertainment for friends; and when the family dines alone, the fore or hind quarter will make a reasonable dish, and seasoned with a little pepper or salt will be very good boiled on the fourth day, especially in winter."