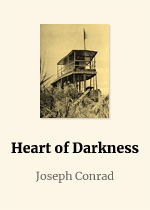 Description
Heart of Darkness (1899) is a novella by Polish-English novelist Joseph Conrad. It tells the story of Charles Marlow, a sailor who takes on an assignment from a Belgian trading company as a ferry-boat captain in the African interior. The novel is widely regarded as a critique of European colonial rule in Africa, whilst also examining the themes of power dynamics and morality. Although Conrad does not name the river where the narrative takes place, at the time of writing the Congo Free State, the location of the large and economically important Congo River, was a private colony of Belgium's King Leopold II. Marlow is given a text by Kurtz, an ivory trader working on a trading station far up the river, who has "gone native" and is the object of Marlow's expedition.
Central to Conrad's work is the idea that there is little difference between "civilised people" and "savages." Heart of Darkness implicitly comments on imperialism and racism. The novella's setting provides the frame for Marlow's story of his obsession with the successful ivory trader Kurtz. Conrad offers parallels between London ("the greatest town on earth") and Africa as places of darkness.
Summary
Heart of Darkness centers around Marlow, an introspective sailor, and his journey up the Congo River to meet Kurtz, reputed to be an idealistic man of great abilities. Marlow takes a job as a riverboat captain with the Company, a Belgian concern organized to trade in the Congo. As he travels to Africa and then up the Congo, Marlow encounters widespread inefficiency and brutality in the Company's stations. The native inhabitants of the region have been forced into the Company's service, and they suffer terribly from overwork and ill treatment at the hands of the Company's agents. The cruelty and squalor of imperial enterprise contrasts sharply with the impassive and majestic jungle that surrounds the white man's settlements, making them appear to be tiny islands amidst a vast darkness.
About Author
Joseph Conrad (born Józef Teodor Konrad Korzeniowski, 3 December 1857 – 3 August 1924) was a Polish-British writer regarded as one of the greatest novelists to write in the English language. Though he did not speak English fluently until his twenties, he came to be regarded a master prose stylist who brought a non-English sensibility into English literature. He wrote stories and novels, many with a nautical setting, that depict trials of the human spirit in the midst of what he saw as an impassive, inscrutable universe.
Quotes From this Book
"We live as we dream–alone…."
"It was written I should be loyal to the nightmare of my choice."
"I don't like work–no man does–but I like what is in the work–the chance to find yourself. Your own reality–for yourself not for others–what no other man can ever know. They can only see the mere show, and never can tell what it really means."
"Your strength is just an accident arising from the weakness of others."
"No, it is impossible; it is impossible to convey the life-sensation of any given epoch of one's existence–that which makes its truth, its meaning–its subtle and penetrating essence. It is impossible. We live, as we dream–alone."
"Droll thing life is — that mysterious arrangement of merciless logic for a futile purpose. The most you can hope from it is some knowledge of yourself — that comes too late — a crop of inextinguishable regrets."
"We live as we dream – alone. While the dream disappears, the life continues painfully."
"The mind of man is capable of anything."