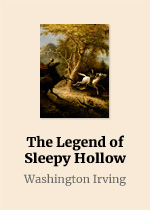 Description
"The Legend of Sleepy Hollow" is a gothic story by American author Washington Irving, contained in his collection of 34 essays and short stories entitled The Sketch Book of Geoffrey Crayon, Gent.. Written while Irving was living abroad in Birmingham, England, "The Legend of Sleepy Hollow" was first published in 1820. Along with Irving's companion piece "Rip Van Winkle", "The Legend of Sleepy Hollow" is among the earliest examples of American fiction with enduring popularity, especially during Halloween because of a character known as the Headless Horseman believed to be a Hessian soldier who was decapitated by a cannonball in battle.
Summary
Ichabod Crane, a schoolteacher, came to Tarry Town in the glen of Sleepy Hollow to ply his trade in educating young minds. He was a gullible and excitable fellow, often so terrified by locals' stories of ghosts that he would hurry through the woods on his way home, singing to keep from hysterics. Until late one night, he finds that maybe they're not just stories. What is that dark, menacing figure riding behind him on a horse? And what does it have in its hands? And why wasn't schoolteacher Crane ever seen in Sleepy Hollow again?
About Author
Washington Irving (April 3, 1783 – November 28, 1859) was an American short-story writer, essayist, biographer, historian, and diplomat of the early 19th century. He is best known for his short stories "Rip Van Winkle" (1819) and "The Legend of Sleepy Hollow" (1820), both of which appear in his collection The Sketch Book of Geoffrey Crayon, Gent. His historical works include biographies of Oliver Goldsmith, Muhammad and George Washington, as well as several histories of 15th-century Spain that deal with subjects such as Alhambra, Christopher Columbus and the Moors. Irving served as American ambassador to Spain in the 1840s.
Quotes From this Book
"I profess not to know how women's hearts are wooed and won. To me they have always been matters of riddle and admiration."
" All these, however, were mere terrors of the night, phantoms of the mind that walk in darkness; and though he had seen many spectres in his time, and been more than once beset by Satan in divers shapes, in his lonely pre-ambulations, yet daylight put an end to all these evils; and he would have passed a pleasent life of it, in despite of the devil and all his works, if his path had not been crossed by a being that causes more perplexity to mortal man than ghosts, goblins, and the whole race of witches put together, and that was – a woman."
"I profess not to know how women's hearts are wooed and won. To me they have always been matters of riddle and admiration. Some seem to have but one vulnerable point, or door of access; while others have a thousand avenues, and may be captured in a thousand different ways. It is a great triumph of skill to gain the former, but a still greater proof of generalship to maintain possession of the latter, for man must battle for his fortress at every door and window. He who wins a thousand common hearts is therefore entitled to some renown; but he who keeps undisputed sway over the heart of a coquette is indeed a hero."