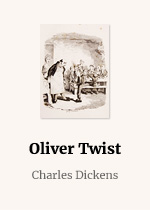 Description
The story centres on orphan Oliver Twist, born in a workhouse and sold into apprenticeship with an undertaker. After escaping, Oliver travels to London, where he meets the "Artful Dodger", a member of a gang of juvenile pickpockets led by the elderly criminal Fagin.
Oliver Twist is notable for its unromantic portrayal of criminals and their sordid lives, as well as for exposing the cruel treatment of the many orphans in London in the mid-19th century. The alternative title, The Parish Boy's Progress, alludes to Bunyan's The Pilgrim's Progress, as well as the 18th-century caricature series by William Hogarth. In this early example of the social novel, Dickens satirises the hypocrisies of his time, including child labour, domestic violence, the recruitment of children as criminals, and the presence of street children.
Summary
Oliver Twist is born an orphan and grows up handed from bad position to worse. Eventually he ends up in the London street gang run by Fagin, who attempts to blacken the boy's pure soul in his service. Through chance and coincidence Oliver is restored to his mother's middle-class family, where he is shown love and comfort for the first time in his life. The villains' attempts to kidnap him back are foiled and all are transported or hanged.Full of sharp irony and wit, Oliver Twist was Dickens' first social novel.
About Author
Charles John Huffam Dickens FRSA (7 February 1812 – 9 June 1870) was an English writer and social critic. He created some of the world's best-known fictional characters and is regarded by many as the greatest novelist of the Victorian era. His works enjoyed unprecedented popularity during his lifetime, and by the 20th century, critics and scholars had recognised Dickens as a literary genius. His novels and short stories are still widely read today.
Quotes From this Book
"There are books of which the backs and covers are by far the best parts."
"It is because I think so much of warm and sensitive hearts, that I would spare them from being wounded."
"My heart is set, as firmly as ever heart of man was set on woman. I have no thought, no view, no hope, in life beyond her; and if you oppose me in this great stake, you take my peace and happiness in your hands, and cast them to the wind."
"The sun,–the bright sun, that brings back, not light alone, but new life, and hope, and freshness to man–burst upon the crowded city in clear and radiant glory. Through costly-coloured glass and paper-mended window, through cathedral dome and rotten crevice, it shed its equal ray."
"The suspense: the fearful, acute suspense: of standing idly by while the life of one we dearly love, is trembling in the balance; the racking thoughts that crowd upon the mind, and make the heart beat violently, and the breath come thick, by the force of the images they conjure up before it; the desperate anxiety to be doing something to relieve the pain, or lessen the danger, which we have no power to alleviate; the sinking of soul and spirit, which the sad remembrance of our helplessness produces; what tortures can equal these; what reflections of endeavours can, in the full tide and fever of the time, allay them!"
"Please, sir, I want some more."