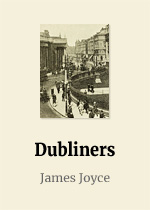 Description
Dubliners is a collection of fifteen short stories by James Joyce, first published in 1914. They comprise a naturalistic depiction of Irish middle class life in and around Dublin in the early years of the 20th century.
The stories were written when Irish nationalism was at its peak, and a search for a national identity and purpose was raging; at a crossroads of history and culture, Ireland was jolted by various converging ideas and influences. They centre on Joyce's idea of an epiphany: a moment where a character experiences a life-changing self-understanding or illumination, and the idea of paralysis where Joyce felt Irish nationalism stagnated cultural progression, placing Dublin at the heart of this regressive movement. Many of the characters in Dubliners later appear in minor roles in Joyce's novel Ulysses. The initial stories in the collection are narrated by child protagonists, and as the stories continue, they deal with the lives and concerns of progressively older people. This is in line with Joyce's tripartite division of the collection into childhood, adolescence and maturity.
About Author
James Augustine Aloysius Joyce (2 February 1882 – 13 January 1941) was an Irish novelist, short story writer, poet, teacher, and literary critic. He contributed to the modernist avant-garde movement and is regarded as one of the most influential and important writers of the 20th century.
Quotes From this Book
"A few light taps upon the pane made him turn to the window. It had begun to snow again. He watched sleepily the flakes, silver and dark, falling obliquely against the lamplight. The time had come for him to set out on his journey westward. Yes, the newspapers were right: snow was general all over Ireland. It was falling on every part of the dark central plain, on the treeless hills, falling softly upon the Bog of Allen and, farther westward, softly falling into the dark mutinous Shannon waves. It was falling, too, upon every part of the lonely churchyard on the hill where Michael Furey lay buried. It lay thickly drifted on the crooked crosses and headstones, on the spears of the little gate, on the barren thorns. His soul swooned slowly as he heard the snow falling faintly through the universe and faintly falling, like the descent of their last end, upon all the living and the dead."
"But my body was like a harp and her words and gestures were like fingers running upon the wires.
"and yet her name was like a summons to all my foolish blood."
"One by one they were all becoming shades. Better pass boldly into that other world, in the full glory of some passion, than fade and wither dismally with age."
"Mr. Duffy lived a short distance from his body."