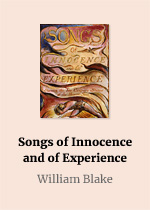 Description
Songs of Innocence and Songs of Experience, contain memorable lyric verses embodying the emerging spirit of Romanticism. The poems of Songs of Innocence describe childhood states of naturalness and purity in delicately beautiful lyrics that reveal a child's unspoiled and beatific view of life and human nature. In Songs of Experience the mood and tone darken, the poems suggesting the bitter corruptions and disillusionment that await the innocent. The contrast between the two sets of lyrics is perhaps at its most acute in the poems "The Lamb" and "The Tyger," the latter ultimately expressing wonderment at the seemingly paradoxical coexistence of good and evil.
About Author
William Blake (28 November 1757 – 12 August 1827) was an English poet, painter, and printmaker. Largely unrecognised during his lifetime, Blake is now considered a seminal figure in the history of the poetry and visual arts of the Romantic Age. In 2002, Blake was placed at number 38 in the BBC's poll of the 100 Greatest Britons. While he lived in London his entire life, except for three years spent in Felpham, he produced a diverse and symbolically rich œuvre, which embraced the imagination as "the body of God" or "human existence itself".
Quotes From this Book
The sun does arise,
And make happy the skies;
The merry bells ring
To welcome the Spring;
The skylark and thrush,
The birds of the bush,
Sing louder around
To the bells' cheerful sound;
While our sports shall be seen
On the echoing green.
Merry, merry sparrow!
Under leaves so green
A happy blossom
Sees you, swift as arrow,
Seek your cradle narrow,
Near my bosom.
Pretty, pretty robin!
Under leaves so green
A happy blossom
Hears you sobbing, sobbing,
Pretty, pretty robin,
Near my bosom.